Hawaii volcano 'not safe' to roast marshmallows over, USGS says
NEWYou can now listen to Fox News articles!
Hawaii's Kilauea volcano may be generating a lot of heat from bright orange lava and volcanic vents on the Big Island, but don't even try to treat it like the biggest campfire and roast marshmallows over it.
As the volcano continues to spew lava, clouds of ash, and deadly laze, the U.S. Geological Survey has been providing constant updates on Twitter on the status on lava and ash clouds. The agency has also been replying to questions from other users about the science behind the ongoing eruptions, all types of questions.
On Tuesday, Twitter user wrote, "Is it safe to roast marshmallows over volcanic vents? Assuming you had a long enough stick, that is? Or would the resulting marshmallows be poisonous?"
The USGS replied back, "Erm...we're going to have to say no, that's not safe. (Please don't try!)"
HAWAII VOLCANO: KILAUEA LAVA SPEWS DEADLY 'LAZE' PLUME CONTAINING TINY SHARDS OF GLASS
The agency said that if a volcanic vent is emitting a lot of sulfur dioxide or hydrogen sulfide), any marshmallows that could get roasted would taste "BAD."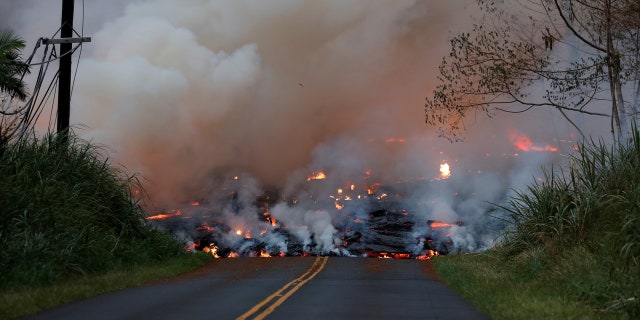 Any sulfuric acid in the air that could come in contact with sugary marshmallows, including vog (volcanic smog) would create a "pretty spectacular reaction," according to the USGS.
HAWAII VOLCANO: WHY KILAUEA'S LAVA IS CAUSING EERIE BLUE FLAMES
Scientists have said higher sulfur dioxide emissions recorded at the volcano's vents in recent days are creating the potential for heavier than usual vog. So far, trade winds have been mostly blowing the gray haze offshore.
The cracks in the ground aren't just emitting heat, but also eerie blue flames as hot lava burns vegetation on the Big Island.
The U.S. Geological Survey has posted footage of the strange blue burning flames on its Facebook and Twitter accounts. Caused by methane gas, the flames were observed on cracks in a street in Hawaii's Leilani Estates Subdivision on May 22.
"When hot lava buries plants and shrubs, methane gas is produced as a byproduct of burning vegetation," the USGS said. "Methane gas can seep into subsurface voids and explode when heated, or as shown in this video, emerge from cracks in the ground several feet away from the lava. When ignited, the methane produces a blue flame."
Intermittent short bursts of methane are visible in the video, as is "lava fountaining," which occurs when a jet of lava is sprayed into the air by the rapid formation and expansion of gas bubbles in molten rock.
Fox News' James Rogers contributed to this report.