Has Long-Lost City Finally Been Found?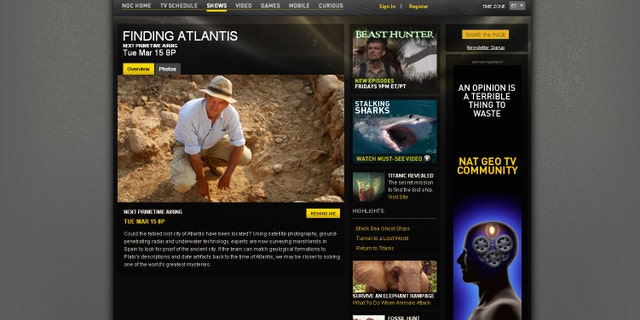 NEWYou can now listen to Fox News articles!
Has the lost city of Atlantis finally been found? A Connecticut professor and his international team think so.
In Sunday night's National Geographic special "Finding Atlantis," Richard Freund from the University of Hartford presented evidence that the sunken city may be located in mud flats in southern Spain.
The fabled island metropolis was believed to be hit by a tsunami thousands of years ago that caused it to disappear into the sea.
Following clues from ancient Greek philosopher Plato, Freund and his team focused their search on the Mediterranean and Atlantic. They used satellite images to locate the site just north of Cadiz, Spain, Reuters reports.
"It is just so hard to understand that it can wipe out 60 miles inland, and that's pretty much what we're talking about," Freund told Reuters.
Using ground-penetrating radar, digital mapping and underwater technology, the team of archeologists and geologists surveyed the site for evidence.
In addition to the rumored Atlantis site in the mud flats, Freund also discovered a series of "memorial cities" built as tributes to Atlantis by the island's refugees and tsunami survivors, Reuters reports.
The presence of these memorial sites boosts Freund's confidence that he has, in fact, located the hidden city. However, there is no definitive proof for Freund's claims.
The team plans to lead more excavations at the rumored Atlantis site and dig out more mysteries hidden in the dirt.
Reuters contributed to this report.