'Guard goose' downs high school golfer, who still pars the hole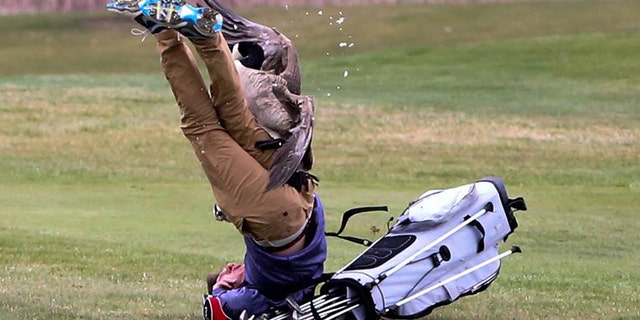 After his harrowing fairway encounter with a goose, a Michigan high school golfer may want to take a quack at another sport.
Isaac Couling of Concord High School was chased and upended by an angry goose at a golf tournament Saturday in Adrian—an incident caught in photographs, which went viral.
The Detroit News reported that Couling didn't remember his final score for the round, but he said, "I did par that hole."
The goose raised a squawk with Couling as he and his group were walking down the fairway on hole No. 7.
"They were aware of a goose nest on their left, which they were looking at but not bothering when from behind them and to the right came the guard goose (protecting the next)," Blissfield High golf coach Steven Babbitt said, according to The Los Angeles Times.
The Detroit Free Press reported that after Blissfield Athletics shared the photos on Twitter, The PGA of America shared in a post, "Though geese can be beautiful when watching them fly in flocks, the truth is they can be a real nuisance to golfers. And that's without them attacking golfers."