Google 'Doodle' celebrates Sally Ride, 1st American woman in space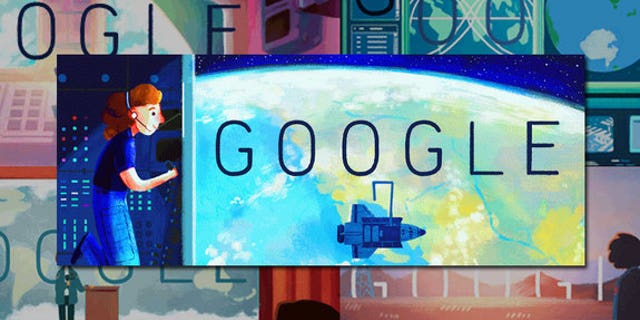 NEWYou can now listen to Fox News articles!
Google has paid tribute to America's first woman in space with a series of five animated "Doodles" appearing on its website today, May 26.
The whimsical scenes, displayed one at a time, randomly, with each refresh of the page, are timed to celebrate what would have been Sally Ride's birthday. Born on May 26, 1951, Ride died almost three years ago on July 23, 2012, from pancreatic cancer.
"Sally Ride, who would have been 64 today, captured the nation's imagination as a symbol of the ability of women to break barriers," wrote Tam O'Shaughnessy, CEO of Sally Ride Science and Ride's life partner, in a guest essay that accompanies the Doodles on Google's website. [Pictures of Sally Ride, the First American Woman in Space]
Ride launched on NASA's STS-7 mission on board space shuttle Challenger on June 18, 1983. The first U.S. female astronaut to fly into space, she was only the third woman worldwide to orbit the Earth, after two Soviet cosmonauts, Valentina Tereshkova in 1963 and Svetlana Savitskaya in 1982.
"Looking back at Earth through the window of the space shuttle, Sally was moved by the view of our beautiful blue planet wrapped in its thin blanket of air," O'Shaughnessy described. "She realized how important it is for all of us to take care of our fragile home in space."
After a second space shuttle flight in 1984 and a brief stint at NASA Headquarters, Ride left the agency to become a physics professor and a champion for improving science education. With O'Shaughnessy, Ride founded Sally Ride Science to motivate children to pursue careers in science, math and technology.
"She loved being a scientist, but she was concerned that many young people, especially girls and minority students abandon their early interest in science and math," stated O'Shaughnessy.
It is with that in mind that Olivia Huynh, a Google Doodle animator, worked with O'Shaughnessy to pick the themes for the search engine's tribute.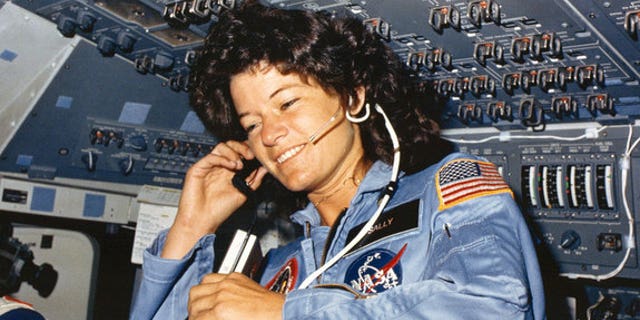 "I decided to make a series of [images] depicting some of [Ride's] many accomplishments," Huynh said in a "Behind the Doodle" video. "The biggest challenge was condensing some of her many accomplishments into a small amount of animation."
Two of Huynh's Doodles show Ride on the space shuttle's flight deck, working to keep the letters in "GOOGLE" from floating away by using her hands in one animation and the orbiter's robotic arm in another. Two other scenes capture the astronaut's role as an educator, helping girls to literally float toward their own dreams.
The fifth Doodle represents Ride's work with EarthKAM, a NASA educational outreach project that enables students, teachers and the public to learn about Earth by directing a camera aboard the International Space Station. The same Doodle also features Ride's STS-7 and STS-41G mission patches.
"The bright colors and playful approach [of the animations] were greatly informed by Sally's perspective on her travels to space," Huynh commented. "I hope I have been able to capture some of the wonder that Sally must have felt up there, floating free above it all."
This is not the first time Huynh has applied her whimsical style to space exploration. Working with astronaut Michael Barratt, she created the mission patch that the Expedition 19 crew wore aboard the International Space Station from October 2008 through April 2009.
"I know she would be honored by today's Google Doodle," O'Shaughnessy stated. "With whimsy, it expresses Sally's sense of fun and adventure and her ability to inspire young people."
"And who knows — maybe her Doodle will motivate some girl or boy somewhere in the world to become a scientist and adventurer just like Sally."
Click through to collectSPACE to see all five Sally Ride Google Doodles and watch a video about the making of the animations.