Girl Power! Three Young Women Crowned Winners of Google Science Fair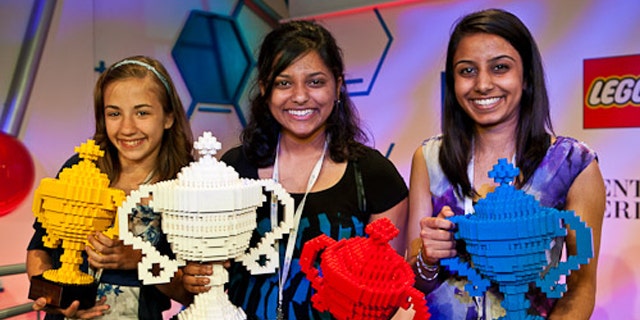 NEWYou can now listen to Fox News articles!
Yesterday three young women beat out some of the country's smartest youngsters to be crowned winners of Google's inaugural science fair.
In all, 15 science-fair finalists put their projects on display in Google headquarters for more than 1,000 onlookers as well as an esteemed panel of judges including a Nobel Laureate, National Geographic Explorers, and some of Google's own.
The tech giant searched through more than 7,500 entries from more than 10,000 students in 91 countries. In the end, the judges picked just three winners – all of whom were girls.
"This year was all about girl power," Google declared.
In the 13-to-14 age group, Lauren Hodge won for her project studying varying carcinogen levels in grilled chicken -- depending on sauce type.
In the 15-to-16 age range, Naomi Shah tried to prove that tweaking the environment indoors can improve air quality and lessen people's reliance on asthma medication.
The Grand Prize winner (and winner in the 17-to-18 age group) was Shree Bose, who found a way to improve ovarian cancer treatment for patients when they have built up a resistance to certain chemotherapy drugs.
"Our judges said the unifying elements of all three young women were their intellectual curiosity, their tenaciousness and their ambition to use science to find solutions to big problems," Google explained in a blog post announcing the winners. "They examined complex problems and found both simple solutions that can be implemented by the general public ... as well as more complex solutions that can be addressed in labs by doctors."
For the girls, it was the experience of a lifetime.
"When you first walk in there's this table with all the judges -- the room is full of these judges who are incredible scientists, experts in their field -- and you just stand in front of them and spend 5 minutes, just explaining your project -- just like they're normal people. And then they ask you questions and you're like, 'I'm being asked questions by a Nobel Laureate!'" said Shree Bose, who won the Google grand prize.
"I feel way way beyond excited!" she gushed. Right now in my mind, it's a mixture of disbelief, excitement, and shock! It's the biggest opportunity of my life."
For her efforts, Bose won a $50,000 scholarship, a trip to the Galapagos Islands and an internship at the European Organization for Nuclear Research.