Giant alligator in South Carolina attempts to scale fence to escape trappers: 'This is crazy'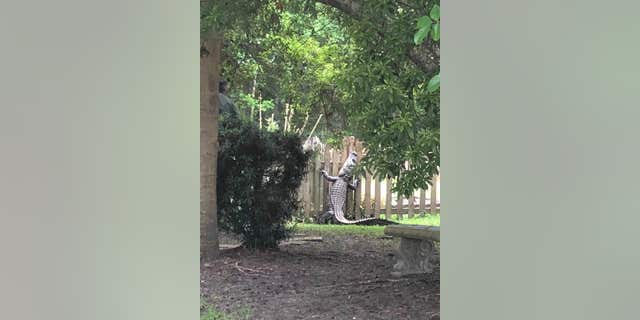 A 7-foot alligator attempted to evade trappers in a South Carolina neighborhood last week by scaling a 4-foot-tall wooden fence.
Shari Sebuck watched the wild scene unfold in her Planters Pointe neighborhood in Mount Pleasant. Residents called the South Carolina Department of Natural Resources (DNR) after spotting the gator strolling along the streets and "greeting" elementary school students at a nearby bus stop.
"Police were here keeping people off the street and everyone was waiting for the 'trapper,'" Planters Pointe resident Shari Sebuck told Fox News.
"I've never seen an alligator scale a fence. I took a picture so my two teenage boys would believe me..."
When a South Carolina DNR warden arrived at the scene, the reptile disappeared into a neighbor's backyard. The gator paused as the warden approached it, tapping a stick on the ground to stop it.
ALLIGATOR CASUALLY STROLLS AROUND FLORIDA MOTEL: 'MAYBE HE WAS JUST LOOKING FOR THE TIKI BAR'
"Every time the gator started to move, the DNR people would tap a stick on the ground," Sebuck explained. "He was reacting to the vibrations on the ground, I suppose, and would freeze. He would then try to move again in a few minutes. Again the tapping."
Realizing he was trapped, the alligator then attempted to climb over a fence. But the warden began tapping again, bringing it back to the ground just as another "hero" trapper arrived to safely catch and transport the creature.
Sebuck lived in Florida for 18 years and spent the past 17 years in South Carolina, so she's used to seeing the scaly reptiles — but she admits she had never seen anything quite like this.
ALLIGATOR FIGHTS PYTHON ON FLORIDA GOLF COURSE
"I've never seen an alligator scale a fence. I took a picture so my two teenage boys would believe me since they were at school," Sebuck said.
Sebuck shared the "unbelievable" picture on Facebook on May 21, commenting, "This is crazy." The photo sparked dozens of reactions from surprised locals.
"Crazy picture... I can't believe this was in your neighborhood," one Facebook user commented.
"It doesn't look real!!!!" another added.
"He is HUGE!!! That is so scary," a woman replied.
One user warned people in the neighborhood to keep a close eye on their pets, which Sebuck agreed was a good tip. There was recently a "tragic misfortune" with a small dog in the area, she said.
"There's a lot of new development in our area and I think, like the deer, they are being forced out of their habitat and looking for new homes," Sebuck suggested. "In addition, people, mainly our northern transplants, don't understand how dangerous they can be and why you should not feed them. I think people are starting to understand."
FLORIDA DEPUTY WRANGLES ALLIGATOR STUCK IN GARAGE IN WILD VIDEO
This is the fifth gator that's been removed from the neighborhood so far this year, Sebuck said, adding that the creatures seem more "bountiful and aggressive" this year than usual.
Alligators become more active as the temperature rises, Tammy Sapp, spokeswoman for the Florida Wildlife Commission's Statewide Nuisance Alligator Program (SNAP), warned back in March.
"[They] become more visible and active during spring," Snapp told Fox News. "Their metabolism increases, and they begin seeking prey items."
South Carolina residents are asked to contact their local DNR to report any alligators "causing problems."