Galapagos hero: Diego the giant tortoise saves his species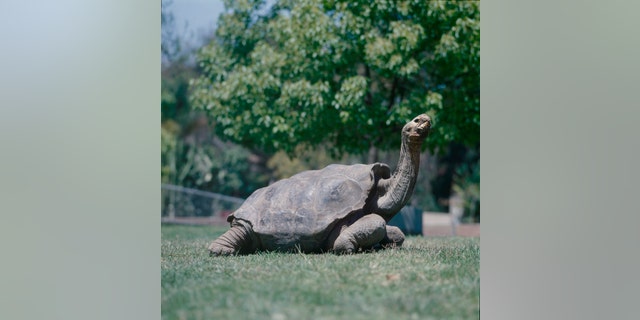 NEWYou can now listen to Fox News articles!
A giant tortoise on the Galapagos Islands who is more than 100 years old has been credited with saving his species from extinction.
Diego, a one-time resident of San Diego Zoo, has fathered an estimated 800 offspring on the Galapagos island of Espanola, AFP reports. Only two males and 12 females of the species were on the island in the 1970s.
The giant tortoise is a Chelonoidis hoodensis, a species only found in the wild on Espanola, according to AFP.
The 175-pound tortoise lives in a breeding center on the archipelago's island of Santa Cruz. Experts became aware of his incredible impact about six years ago.
"We did a genetic study and we discovered that he was the father of nearly 40 percent of the offspring released into the wild on Espanola," Washington Tapia, a tortoise preservation specialist at Galapagos National Park, told AFP.
"He's a very sexually active male," said Tapia."He's contributed enormously to repopulating the island."
Around 2,000 tortoises now live on Espanola island.
Diego is believed to have been taken from Espanola sometime between 1900 and 1959 by a scientific expedition, eventually arriving at San Diego Zoo. He was brought back to the Galapagos in 1976 and placed in the islands' captive breeding program.
Experts from San Diego Zoo visited the Galapagos in 2010 and were thrilled to see Diego's progress. "The reason Diego's return to the Galapagos Islands from the San Diego Zoo is so important is that he literally brought back his own species back from what appeared to be an almost certain extinction," Tommy Owens, lead keeper of the zoo's Reptile Department, told FoxNews.com, via email. "Not just because he sired so many offspring, but he also created competition with rival males that previously showed no interest in the females. Quite possibly the greatest conservation success story for all turtle and tortoise species to date."
Diego's story is a stark contrast to that of Galapagos giant tortoise Lonesome George who died in 2012 after failed efforts to produce offspring made him a symbol of disappearing species.
Lonesome George was believed to be the last living member of the Pinta island subspecies and had become an ambassador of sorts for the islands off Ecuador's coast whose unique flora and fauna helped inspire Charles Darwin's ideas on evolution.
Other giant tortoises have also been in the news recently. Earlier this year Jonathan, a 183-year-old giant tortoise on the Atlantic Ocean island of St. Helena was in the spotlight thanks to his new healthy diet. The Seychelles giant tortoise is enjoying a new lease of life, his vet told FoxNews.com at the time.
In March Jonathan also had his first-ever bath, the Telegraph reports.
The Associated Press contributed to this report.
Follow James Rogers on Twitter @jamesjrogers