Famous paleontologist dies during dinosaur dig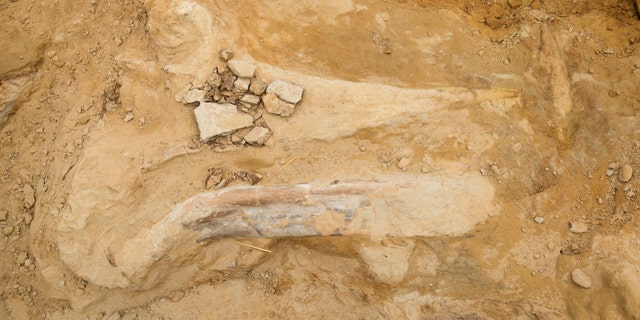 NEWYou can now listen to Fox News articles!
Mike Getty, the chief fossil preparator at the Denver Museum of Nature & Science, passed away Monday after becoming ill working at a new dig.
Getty, who was reknowned for his skill, work ethic and having discovered the Utahceratops gettyi, became ill at a exacavation site working on a newly disocvered triceratops in Thornton, Colorado, according to the Denver Post.
The Denver Museum of Nature & Science did not say how Getty passed, but added his death was not the cause of an accident. He joined the museum four years ago.
CAR-SIZE 'LOCH NESS MONSTER' WAS RUNT OF THE LITTER
"The Museum takes the health and safety of its staff, volunteers and guests very seriously. All emergency management and safety protocols were followed in accordance with best practices," the Museum said in a statement provided to Fox News. "As we mourn the loss of our dear friend and colleague, we send our deepest condolences to the Getty family."
The 50-year-old hailed from Canada and never lost his accent, friends said. He had worked in a number of different countries, including Argentina, Kenya and Madagascar, as well as the U.S. and his native Canada.
Sarah George, executive director of the Natural History Museum of Utah in Salt Lake City, told the Post that Getty had a rare talent for finding bones.
"He could tell you if it's something that has already been found before and how this is adding to our understanding of that animal or if it was new," George said. "And he would know that from looking at little bits and pieces."
"He was a character in every sense of the word," Andrew Farke, who works at the Raymond M. Alf Museum of Paleontology in Claremont, Calif., told the Post. "He was quirky, he had a personality and he was one of those people… it's really hard to imagine that he's gone now."