Endangered sea turtles are actually thriving at Belize reef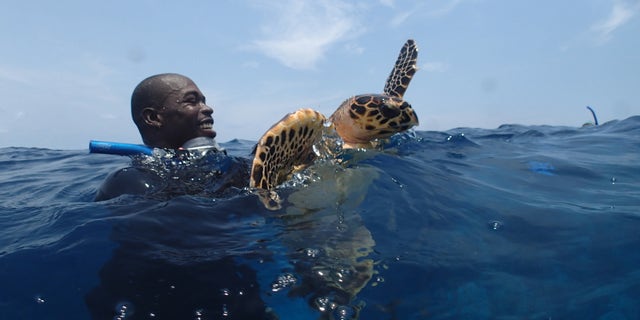 Endangered hawksbill sea turtles are doing swimmingly well at a reef in Belize, the Wildlife Conservation Society has announced.
The sea turtles are described as "critically endangered" by the International Union for Conservation of Nature, so the fact that they're prospering at Glover's Reef Atoll in Belize is good news for conservationists. According to a new study, researchers estimate that there are now over 1,000 juvenile hawksbill turtles in the area.
"The findings of our research show that juvenile hawksbill turtles are thriving at Glover's Reef– extremely good news for this endangered species," Virginia Burns Perez, the Wildlife Conservation Society's technical coordinator in Belize, said in a statement. "Strongholds for the species such as this one should become a model for other foraging and nesting areas that are important for the hawksbill turtle."
WANT TO MONITOR BEARS? TRY CHECKING THEIR SALIVA
The study, published in the journal Endangered Species Research, reports that the hawksbill turtle population numbers have suffered in general due to "harvest for their shells, meat, and eggs." The researchers carried out their research between 2009 and 2013 in an area that's part of a huge barrier reef system that's actually a UNESCO World Heritage Site. Part of their research involved snorkeling and catching, tagging, and releasing the turtles.
The Wildlife Conservation Society says that the sea turtle's rebound is an indication of the success of protection efforts in this large reef system.
"The discovery that Glover's Reef Atoll is an important habitat for young sea turtles is an important find, one that will enable regulatory agencies to fine-tune already effective management policies to safeguard a highly threatened species and its biodiverse habitat," Jason Patlis, the WCS's director for marine conservation, said in the statement.