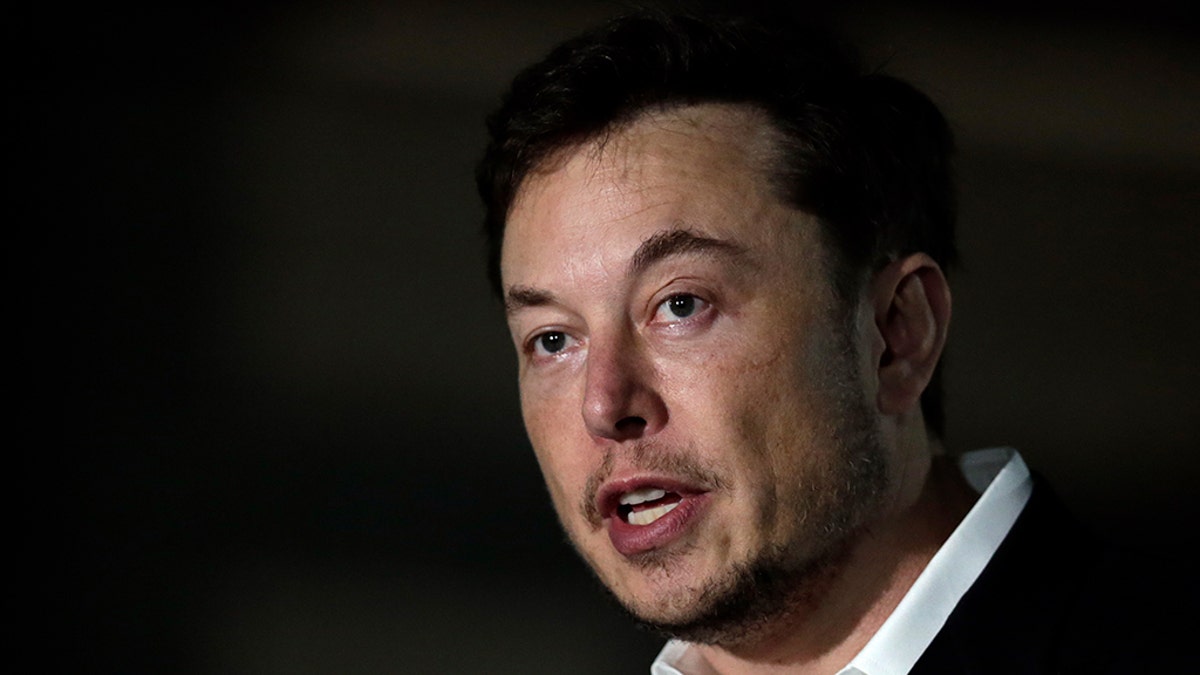 Tech billionaire Elon Musk has had a big week, and it's only Tuesday.
In a bizarre speech, delivered to a crowd gathered beside his commercial space ship, known as BFR, Musk warned his guests that Earth needed to become a "multi-planet civilisation", and we need to do it right now.
"There could be some natural event or some man-made event that ends civilization as we know it, and ends life as we know it,?" Musk rambled into a microphone.
"And so it's important that we try to become a multi-planet civilization, extend life beyond earth and to do so as quickly as we can."
His strange comments came during an opening address at an event hosted by his company SpaceX, in which he announced the very first "paying customer of BFR" selected for a journey to the Moon and back.
The event, called #dearMoon, revealed that the commercial site seeing expedition would take about a week to travel the 480,000 mile round trip to the moon and back and would take place in 2023.
Throughout the speech the Tesla chief appeared jittery and would look off into the distance, often leaving sentences unfinished and sweating before having to remove his jacket.
"We want … to ultimately have life on Mars, the Moon, maybe Venus, the Moons Jupiter, throughout the solar system, and then ultimately extend life beyond the solar system to other star systems," he said.
But these bizarre claims top off a manic three-day stint where the tech mogul has been sued for defamation, struggled with production issues with his electric car company and promised to fix his customer's cars in less than 60 minutes.
By the way, he's also still struggling to reassure anxious shareholders that he isn't a giant pothead after smoking a giant spliff while recording a podcast with Joe Rogan earlier this month.
So it's no surprise that the mogul appeared a little worse for wear at his event on Monday evening.
To understand how we got here, let's take a look at the last few days in the life of Elon Musk.
SUNDAY, SEPTEMBER 16
Following months of speculation, Musk has finally been sued for defamation by a British cave diver he accused of being a pedophile on Twitter in July.
Lawyers representing Vernon Unsworth, the diver who helped rescue a soccer team of young boys trapped in a flooded cave network in northern Thailand, filed complaints in the US District Court.
The lawsuit is seeking more than AU$104,000 in punitive damages and a court order stopping Musk from making further allegations, after he called Mr. Unsworth a "pedo guy" in a tweet to his 22.6 million followers on July 15.
The tweet came after Musk's embarrassing attempt to save the soccer team single-handedly using his very own child-sized submarine.
Musk's rocket company, SpaceX, whipped this baby sub up in a couple of days and he claimed that it could easily transport the players through the floodwater to safety.
Mocking his efforts in an interview with CNN, Mr. Unsworth suggested the billionaire could "stick his submarine where it hurts".
"It just had absolutely no chance of working, he had no conception of what the cave passage was like," he said.
The comments clearly smarted, and Musk fired back a few days later, claiming he "Never saw this British expat guy" at the search site, suggested it was suspicious that he lived in Thailand and announced he would carry on making his minisubs with "no problem".
"Sorry pedo guy, you really did ask for it," Musk wrote.
The lawsuit is being led by Atlanta lawyer, L. Lin Wood, who has produced a whopping 65-page lawsuit featuring a range of exhibits that paint Musk in a most unflattering light.
One of which is an email sent by Musk to a BuzzFeed reporter on August 30 in which he recommends the media outlet "stop defending child rapists".
"He's (Unsworth) an old, single white guy from England who's been travelling or living in Thailand for 30 to 40 years," Musk wrote.
"As for this alleged threat of a lawsuit, which magically appeared when I raised the issue (nothing was sent or raised beforehand), I f***ing hope he sues me."
Mr. Unsworth's lawyers also claim Musk wrote that he had taken a "child bride who was about 12 years old at the time".
"Mr. Unsworth has suffered emotional distress as a result of Musk's false and defamatory accusations," the document said.
The lawsuit claims Musk "falsely accused" Mr. Unsworth of being a pedophile, a child rapist, a child sex-trafficker, the husband of a 12-year-old child bride and a liar.
Mr. Unsworth's legal team have also demanded a jury trial in this instance.
It is understood a separate lawsuit will be filed in the UK by British solicitor Mark Stephens.
In a statement, Mr. Stephens said he hoped "Mr Musk will withdraw his baseless allegations and properly vindicate Mr. Unsworth."
" … Elon Musk is being brought to account for repeatedly attacking and taunting the good name of an ordinary spelunker, Vernon Unsworth who answered the call and, with others, put his life on the line to help rescue the 13 trapped in the caves in Thailand," Mr Stephens said.
It is not known when the British lawsuit will be filed.
MONDAY, SEPTEMBER 17
6.20am: Despite his looming lawsuit/s, this guy appears to have woken refreshed and ready to take on the world.
At about 6.20am he tweeted that he was sick and tired of Tesla clients who crash their cars having to wait inordinate amounts of time for "outside" mechanics to repair his cars.
So, you know what? He's going to bloody fix it.
"Tesla is bringing most collision repairs in-house, as outside firms take weeks to months for repairs, driving Tesla owners (and us) crazy," he tweeted.
So what does he do?
He promises that one day, he's going to be able to fix your Tesla car in under an hour.
"Exciting to see some Tesla collision repair operations already completing within 24 hrs. Aiming for same day soon, then under an hour," he wrote.
He even wants to improve customer's car, making them even better than before they were bought.
"Goal is for repaired car to be better than before accident," he said.
"Should always be true if damaged/used parts are correctly replaced with newer parts."
Here's hoping this does not encourage Tesla clients to crash their cars in the future for a cheap upgrade.
11.34am: Later that morning Musk admitted Tesla was in 'delivery hell' and was forced to apologies to customers for a series of delays with Tesla deliveries.
It came after one woman tweeted that her delivery "has been delayed indefinitely."
"Sorry, we've gone from production hell to delivery logistics hell, but this problem is far more tractable. We're making rapid progress. Should be solved shortly," Musk wrote.
The electric car manufacturer has struggled in the past to hit production and delivery targets so this latest hiccup is no surprise.
Last month, Musk said he expected to build 55,000 of the new Tesla Model 3 sedans in the third quarter.
But last week, he said the company was forced to eliminate some of their original color options in order to fast track production in his California factory.
3pm: Later that day, Musk releases concept photos of his new commercial spaceship, the BFR, which will essentially fly rich people around the moon.
9pm: The release of these photos was followed by an exclusive event, held in his BFR factory, to reveal the "first paying customer of BFR".
According to the #dearMoon campaign, SpaceX will launch it's first 'private lunar mission' in 2023, sending the BFR space craft the 240,000 miles to the Moon for a site seeing expedition before sending it home to Earth again.
The mission will last about a week and will take only the most worthy to discover the wonders of deep space for the betterment of humanity.
That person is none other than Japanese billionaire Yusaku Maezawa, the founder of Japan's largest online clothing store, Zozotown.
In a speech delivered before Maezawa's unveiling, Musk told the crowd we will probably soon perish, thanks to devastating nuclear war, natural disasters and disease, and our planet will be uninhabitable, but not to worry because he was on the case.
"It's important that we try to extend life beyond Earth and do so as quickly as we can," he said.
By way of a solution, Musk has offered up Maezawa, a 42-year-old former drummer and "globally renowned art collector who believes art has the power to promote world peace".
Cool.
And while having a creative on-board a Moon mission can be quite useful, aesthetically, it would be good to know that there will also be some scientists, biologists, physicians, or mathematicians to collect data that we can use.
But there's no more room on the BFR because Maezawa bought every seat on the ship and has elected to take with him a selection of artists, musicians, fashion designers, sculptors and dancers to the Moon.
Yep.
This story originally appeared in news.com.au.