Eccentric Jeremy Bentham's severed head to be displayed as scientists look for clues of autism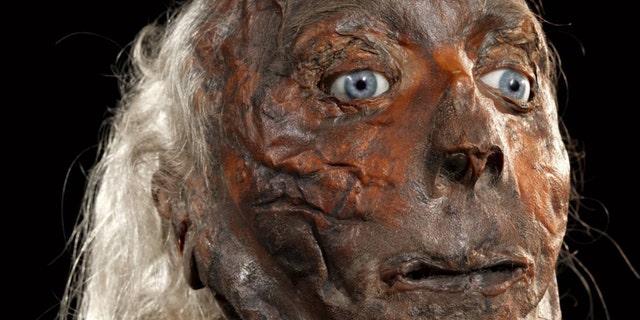 Philosopher Jeremy Bentham's severed head will put on display for exhibit, with scientists also looking to see if the famed eccentric may have had autism.
Bentham, who died in 1832, was a leading philosopher during the late 18th and early 19th century, weighing in on issues such as social and economic reform. He established the "greatest happiness principle," which brought about the idea that the greatest happiness to the greatest number of people was the measure of right and wrong.
"The exhibition positions Bentham's head within the context of his scholarship and his beliefs, with reference to prevailing ideas of the time about death and dead bodies," Subhadra Das, Curator of Collections, UCL Culture, said in a press release. "It asks the question, 'why did he believe donation was important'? And forces us to ask what that means to us today."
ANCIENT PUZZLE: 4,000-YEAR-OLD DECAPITATED TOADS FOUND IN ISRAELI TOMB
Bentham was an atheist, who said the teachings of the church at the time were "nonsense on stilts." As a result, he was opposed to a traditional Christian burial.
The body has been on public display at University College London, but due to a mistake with the mummification process, Bentham's head has been thought too distasteful to show in the past, being checked only once a year for upkeep, including checking that the skin and hair are not falling off, according to The Telegraph.
Scientists have also taken samples of the famed philosopher's DNA to see if he has Asperger's or autism.
Das said that by putting his head on display, it allows scientists to find out the truth about his mental state, as Asperger's or autism have genetic components to them.
"It has also allowed scientists to test his DNA to see if he was autistic," Das said. "We have been working with the Natural History Museum who have new techniques of studying ancient DNA."
HITLER MAY HAVE COME CLOSE TO BUILDING ATOMIC BOMB, GERMAN TREASURE HUNTER FINDS
"Studying ancient DNA is like looking at the shredded pages of a book, so much information is missing," he added. "And we have found that 99 per cent of the DNA taken has come from bacteria in his mouth. So it may be tricky to come to a firm conclusion. We want to explore what drove Bentham to donate his body, but also to address the challenges of putting this type of material on display."
The exhibition runs from October 2 2017 to February 28 2018 at the Octagon Gallery, Wilkins Building, UCL.