Dinosaurs may have had bird-like 'superlungs'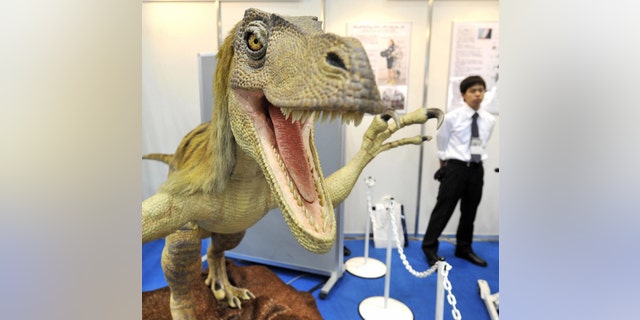 To survive in the Mesozoic era, dinosaurs had to do a lot of running. Whether it was to get some dinner or to not become lunch, they had to be able to break into a sprint at a moment's notice. Supposedly, dinosaurs like the Velociraptor could run as fast as 40 mph.
New research suggests that dinosaurs may have had an ultra-sophisticated, bird-like respiratory system that helped them run at high speeds. Led by Robert Brocklehurst from School of Earth and Environmental Sciences at the University of Manchester, the researchers used CT scans to compare dinosaur lung cavities to those of crocodiles and alligators (crocodilians and dinosaurs have a common ancestor) and modern birds, who are the dinosaurs' descendants.
T. REX'S PUNY ARMS WERE USEFUL AFTER ALL
The team studied the cavities of four modern-day crocodilians and 29 birds, comparing their structure with those of 16 dinosaur species. After comparing the scans, they found that the dinosaurs' vertebrae were more similar to those of birds than crocodilians. A lot of the dinosaurs, which included the Velociraptor and Spinosaurus, had a costovertebral joint as well as the same "ceiling" of vertebra and ribs that birds share.
To double check, the team also physically removed the lungs of an alligator and ostrich. The lung cavity of the alligator was smooth, which allowed for the alligator to breathe as it swam. However, like the dinosaurs studied, the lung cavity of the ostrich was furrowed.
FLESH-EATING PIRANHA-LIKE FISH'S 150-MILLION-YEAR-OLD REMAINS DISCOVERED IN GERMANY
According to the study, this would suggest that dinosaurs had the same kind of respiratory system that modern-day birds have, which means their lungs were highly effective at pumping in oxygen. These lungs would have kept a continuous stream of oxygen coming in while at the same time using less energy to inflate and deflate the lungs. The dinosaurs needed this oxygen too, as some studies indicate that their air was only 10­ to 15 percent oxygen. For comparison, the Earth's air is 20 percent oxygen today.
Dr. Stephen Brusatte, a paleontologist with the University of Edinburgh, believes the research provides new insight on how the ultra–efficient and "very weird" lungs of modern birds evolved.
85 MILLION-YEAR-OLD SEA MONSTER FOUND IN KANSAS
"Today's birds have a sophisticated lung that can take in oxygen during both inhalation and exhalation," Brusatte, who did not take part in the study, told Fox News. "On the face of it, it seems to make no sense that a bird can take in oxygen while it's breathing out, but this is enabled by a rigid, unidirectional lung that connects to a series of air sacs, which hold oxygen-rich air. [This] study has identified the marks the lungs and air sacs left on the bones, which show that many dinosaurs had these telltale marks, and hence the bird-style lungs."
It was also recently reported that the first fossilized lung of a Cretaceous-era bird was found in northeastern China. Living 120 million years ago, the bird was killed by volcanic ash that reportedly preserved the lung.
AMAZING GIANT DINOSAUR DISCOVERY: NEW DINO SPECIES IDENTIFIED
"In the vast majority of cases, lungs do not fossilize," Brusatte explained. "They are far too flimsy and fragile to endure millions of years of being buried in rock."
If the preserved organs are truly lungs, it could help solve the mystery of the bird/dinosaur lung connection once and for all.
JURASSIC-ERA MONSTER PREDATORS FLOURISHED DURING EXTREME CLIMATE CHANGE 150M YEARS AGO
"This other study does something stunning: it reports the first evidence of an actual fossilized lung in a fossil bird," Brusatte said. "These [two] new studies together show that many dinosaurs probably possessed this lung."
Brusatte notes that while other teams of researchers will have to verify the fossilized lung if it pans out, he thinks it's "one of the most unexpected and incredible fossil finds of recent years."