Dinosaur fossil found at Denver construction site
Construction crews in Colorado made an unusual find at their construction site — a rare dinosaur fossil.
The crews said they found the fossil while breaking ground on a new public safety facility in the city of Thornton, Fox 31 Denver reported.
The fossil has been identified as a triceratops skull by scientists from the Denver Museum of Nature and Science, who went to the site and confirmed the dinosaur remnant.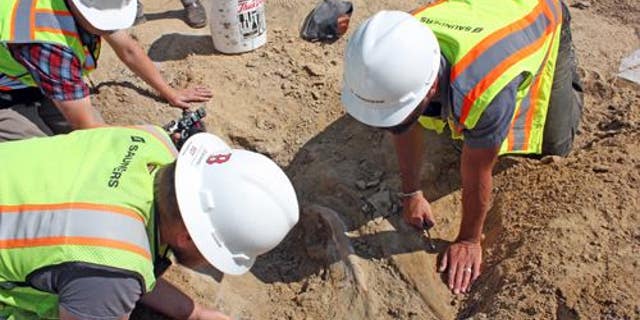 "My heart was racing. I realized it was a pretty important dinosaur find," Joe Sertich, curator of dinosaurs for the museum, told Fox 31. "This is probably one of only three skulls of triceratops found along the Front Range area."
Front Range is a mountain range in the Rocky Mountains that runs through Colorado and Wyoming.
10-YEAR-OLD TRIPS INTO MILLION-YEAR-OLD FOSSIL DISCOVERY IN NEW MEXICO
Dinosaur fossils have been known to lay beneath Denver for around 150 years, but most of the city is covered by buildings or parking lots, which make fossils difficult to unearth, Sertich told KMGH.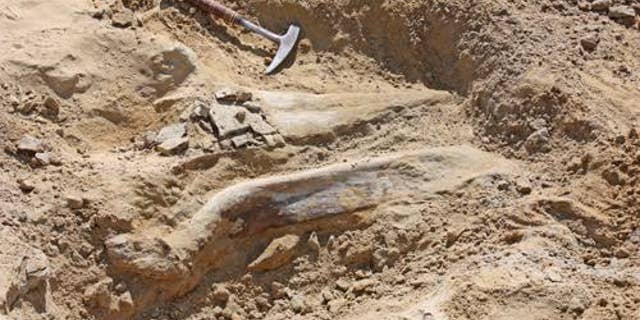 The museum curator said that most fossil finds discovered along the Front Range area are from the Ice Age, and could be anywhere from 10,000 to 12,000 years old and are typically bones from mammoths or camels.
"This dinosaur has been laying here for at least 66 million years," Sertich told Fox 31. "I'm over the moon right now about this dinosaur fossil."
Crews have stopped work on the site where the fossil was located, and new crews working to uncover more of the dinosaur remains have so far found a horn and a shoulder blade.
The Associated Press contributed to this report.