Danish Team's Homemade Space Capsule Blasts Off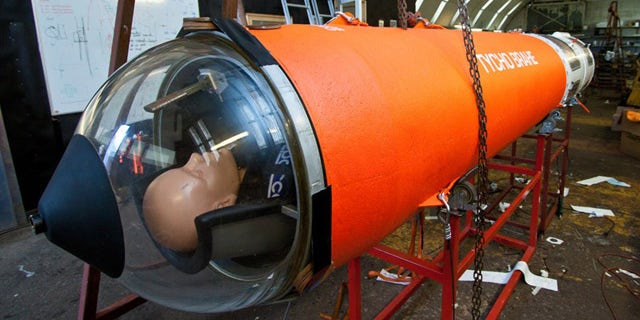 NEWYou can now listen to Fox News articles!
A Danish group has a simple mission: launching a human being into space.
And they just took one giant step towards their goal.
Copenhagen Suborbitals, a non-profit space venture founded by Danish inventors Kristian von Bengtson and Peter Madsen, successfully launched its handmade space capsule from a boat in the Baltic Sea Friday, June 3.
The rocket soared about 2 miles into the air -- somewhat more sideways than anticipated -- before deploying its parachute and falling back into the water, reported Danish website ING.dk. It suffered minor damage upon landing but was largely recovered.
The team counts the test as a complete success. And Dr. Bruce Betts, director of projects for The Planetary Society, was impressed as well, though he cautioned that homemade one-man rockets are on a far different scale from NASA's launches.
"It's really big for an amateur rocket -- and really small for thinking about humans," Betts told FoxNews.com. "But this is a big accomplishment for a non-profit group."
Over the span of three years, the team has developed the launch vehicle and crew capsule for one brave astronaut (known as the Tycho Brahe), undertaken more than 30 static engine tests, and raised all the money from donors and sponsors to keep the launch attempts coming, reported Popular Science.
"We aim to show the world that human space flight can be different from the usual expensive and government controlled project," the pair wrote on the website for their ambitious venture. That's for sure: von Bengtson and Madsen claim to have spent only about $60,000 a year on the craft, thanks to simple materials and normal production methods.
"We are working fulltime to develop a series of suborbital space vehicles designed to pave the way for manned space flight on a micro size spacecraft," they wrote.
"The space industry is expanding in more and more different ways," Betts told FoxNews.com. He called the rocket "part of a larger picture of different kinds of groups entering into the space arena in different ways."
From within the Tycho Brahe capsule, the lone adventurer will see the Earth fall away beneath him through a polymer plexiglas-dome, allowing the brave soul to see and experience the entire ballistic ride.
Madsen's ultimate venture: a manned rocket ride from a steel catamaran parked in the Baltic Sea past the 62.5 mile mark that roughly constitutes the boundary of space before riding back down into the atmosphere and parachuting to safety -- much as Al Shepard's first Mercury mission did.
That's still off in the distance, Betts noted, pointing out that the group has yet to reach the 10 mile high limit. But the ship is certainly intriguing.
"Who knows where they may go with this? The journey starts with one step -- and this is a big step," Betts said.