Closure on K2: Video prompts Texas woman's journey to Pakistan slope to find bodies of father, brother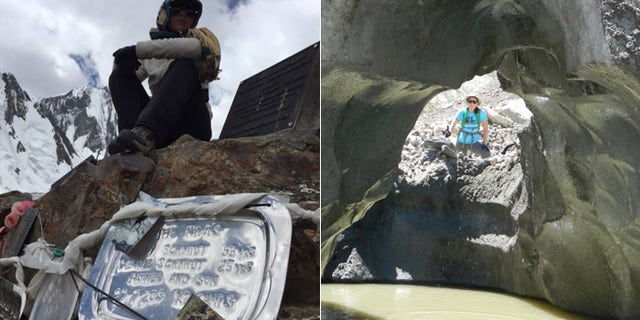 A grim warning underscored by a haunting image from the world's second-tallest mountain left one viewer of adventurer Mike Horn's slick Facebook video dumbstruck – and launched her recent quest for closure for herself and others whose loved ones died trying to scale the treacherous peak.
"If you are not 100 percent ready, the mountain is going to kill you," Horn, an internationally known sportsman and motivational speaker, intoned as a stylized ax sliced dramatically through the northern Pakistan mountain and the camera lingered briefly on a partially preserved head lying on a glacier.
For Sequoia Di Angelo, 24, of Houston, the image on the video posted in July was almost too much to bear. Two years ago, her father and brother died on the mountain and their bodies were never recovered.
"I immediately thought, 'Oh my God, that's my brother's head,'" Di Angelo told FoxNews.com. "I'm sure every family who lost someone on that mountain thought the same thing and experienced the same sick feeling in seeing that."
"I immediately thought, 'Oh my God, that's my brother's head.'"
Di Angelo's father, Marty Schmidt, 53, and her brother, Denali, both experienced climbers, died in an avalanche on July 26, 2013, while trying to become the first father-son team to successfully scale the 28,251-foot peak. K2, on the China border, may not be as tall as Mount Everest, but while 4,000 have conquered Everest, just 377 have seen the top of K2. The avalanche added the Schmidts to a roster of at least 82 who have died trying to reach the summit.
The trip by Horn, who has performed a string of "extreme adventure" feats, including a solo circumnavigation of the Arctic Circle and a journey to the North Pole with without the aid of dogs or machines, was sponsored by Mercedes-Benz. The fact that it was scuttled due to harsh weather is testament to K2's dominance of man, but the image that shocked Di Angelo bothered others, as well.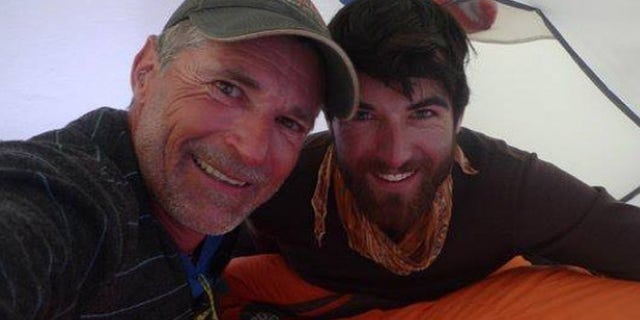 "I couldn't believe the disrespect, to show that for the sake of branding and sponsorship and views and like," said Di Angelo, whose family split time between New Zealand and the U.S. when she was growing up. "Mike Horn and other climbers videoed the body parts, but did not attempt to identify or notify any of the families or bury the remains. He left them there to rot."
Four days after posting the video, Horn took it down amid hundreds of angry comments. When he re-posted the video, the offending image was gone. Accompanying the video was an apology "if I offended anyone who lost loved ones and do not see life and death in the same way I do."
Contacted by FoxNews.com, the 49-year-old South African explained that in the close-knit circle of climbers and adventurers, respect for those who die in action can follow a different code.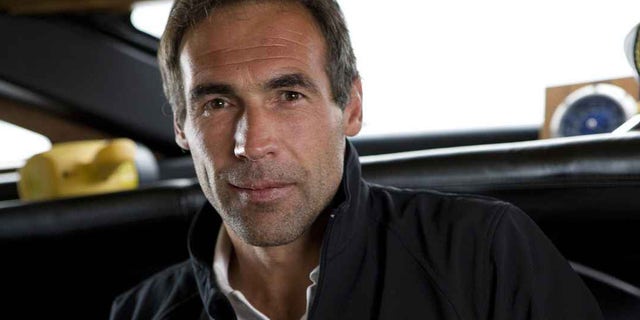 "Marty Schmidt was a friend of mine," Horn told FoxNews.com via email. "Many people die on these mountains and I have no right to decide for someone else what I should or should not do with their remains. Most of the climbers know the risk they take and all of them usually say just leave me where I die."
The video spurred Di Angelo to contact other families who had lost loved ones on the mountain in recent years, and to get an emergency visa to travel to Pakistan last month. There, she made contact with locals who knew her father and brother and took her to the Skardu region, where the "mountain of mountains" stands.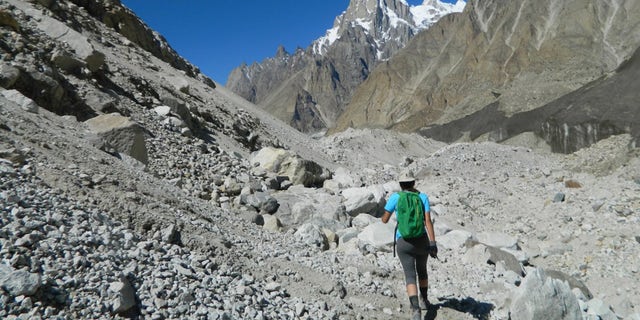 The young publishing entrepreneur was cautioned in advance by officials at the U.S. Embassy that, given Pakistan's unstable security situation, they had a limited ability to assist citizens outside of main cities. But with the support of the various families she had just come to know, united in their K2 losses, Di Angelo remained determined.
As she prepared for the final phase of her journey, Di Angelo was gripped by fear of potentially handling the remains of her father or brother – or even meeting the same fate. Determined, she conquered the rigorous permit process at the Alpine Club of Pakistan, which oversees all mountain expeditions, then left with a team of five Pakistani men on an eight-day trek across the picturesque Karakoram landscape to the K2 base camp.
"I was expecting to be really angry at the mountain that took half my family, but the locals have a completely different perspective of death," Di Angelo continued. "Foreigners often see it as 'being killed,' but the locals really love and respect the mountain. They see it as her taking them in, wanting them to stay with her. I thought that was a really beautiful way of looking at it."
Days later, Di Angelo and her climbing team located the remains featured on Horn's video, between base camp and advanced base camp. After gathering DNA samples, Di Angelo wrapped the remaining body parts in white cloth and buried them at the memorial site on the mountain, in a moving ceremony closed with prayers and a moment of silence.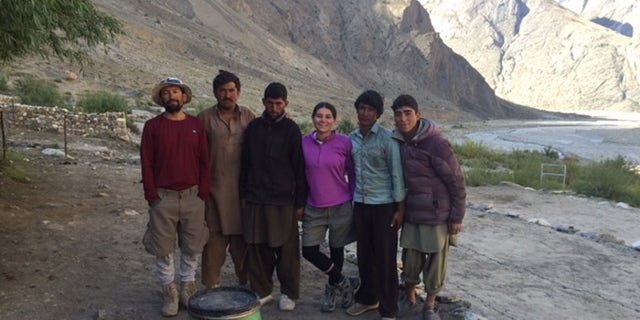 Although DNA testing will be required to determine if the remains were, in fact, her loved ones, the ceremony helped Di Angelo process the death of her father and brother, men who died doing what they loved. Born and raised in California, Marty Schmidt joined the United States Air Force at 20, serving in the elite Pararescue unit and receiving the prestigious Air Medal in 1984 for rescuing people from a hotel fire.
Her brother, named for the Alaskan peak, was an artist who drew inspiration from adventure and the outdoors. This past summer, his paintings were brought together for an exhibit titled "Peak Inspirations" in San Francisco, where he attended California College of the Arts. The collection is now on its way to Denver, and the family hopes to see it go on display around the world – from England, Germany, Australia, New Zealand and, hopefully, Pakistan.
Di Angelo, who returned to Texas last week, is currently in the process of distributing swab kits to family members around the world who have lost loved ones on K2. A local laboratory will determine if there are DNA matches.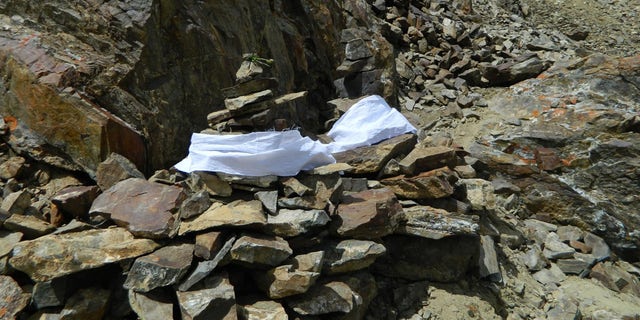 However, Di Angelo said that there were physical indicators suggesting that the located remains were not those of her father or brother, and Horn also expressed doubt it was them, pointing out that their position when the avalanche struck most likely took their bodies down into the China side.
No matter what the DNA tests show, Di Angelo says she got what she needed to say goodbye.
"It does not matter whom the remains belong to," she said. "For me, it is not a singular line of respect that only falls for the remains of my brother and father, but rather wholehearted respect for all who have perished while on K2.
"Whomever these remains may belong to, they deserve respect and the families deserve to know that they have received an honorary burial."