Civil war-era wreck tentatively identified as blockade runner Agnes E. Fry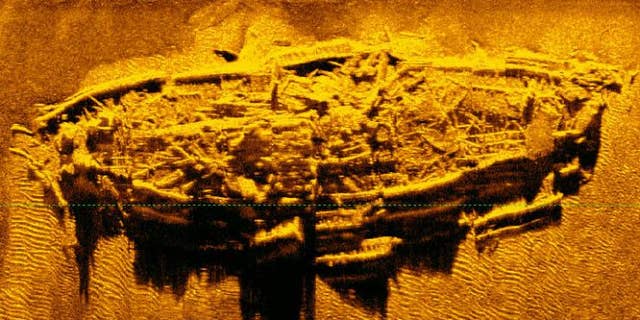 Experts have tentatively identified a shipwreck discovered off Oak Island, N.C. in February as the Civil War blockade runner Agnes E. Fry.
Three blockade runners - the Agnes E.Fry, Spunkie and Georgianna McCaw - are known to have been lost in the area.
Related: Civil War-era shipwreck found off North Carolina coast
Citing its location, size, and the missing pieces of the vessel, archaeologists with the N.C. Office of State Archaeology now suspect that the ship is the Agnes E. Fry, the state's Department of Natural and Cultural Resources announced Monday.
Deputy State Archaeologist Billy Ray Morris explained that the vessel remains are 225 feet in length, similar to the Agnes. E. Fry, which was 236 feet long. Spunkie and Georgianna McCaw are both considerably shorter and also a much earlier design than the Agnes E. Fry, he added. "The boiler type, as well as the hull design of the wreck are both indicative of a more modern vessel than either McCaw or Spunkie," said Morris. "The difference in the lengths has to do with the damage to the bow and stern."
Related: Does this photo of Ulysses S. Grant look strange to you?
Detailed analysis of a sonar image generated on Feb. 27 shows a 225-foot vessel structure with both engines and the paddlewheel shaft missing. "This fits precisely with salvage records and the March 22 underwater site inspection," notes the Department of Natural and Cultural Resources.
"Every piece of evidence we have examined to date, from sonar images to primary documentation, points directly to this shipwreck being Agnes E. Fry," said Institute for International Maritime Research (IIMR) Director Gordon Watts, in the statement. "We look forward to working with the Charlotte team to confirm our suspicions."
Related: Man says photo at center of Civil War mystery is a 30-year-old hoax he did as a teen
Initial side scan sonar images of the vessel were generated during remote sensing operations aboard the IIMR survey vessel, Atlantic Surveyor, on Feb. 27.
The Charlotte Fire Department is also supporting archaeologists' efforts, and will deploy a sophisticated 3D sonar device to help confirm the ship's identity.
Related: Navy tug, lost for nearly a century, found in waters off California
Capt. J.D. Thomas of the Charlotte Fire Department Special Operations/EMS Command and a team of five search and rescue divers will assist the state's maritime archaeologists next week. Brian Abbott, president of Nautilus Marine Group International and the 3D sonar equipment's owner, will accompany the dive team to operate equipment.
The Associated Press contributed to this report.