China makes move in quest to be first to the dark side of moon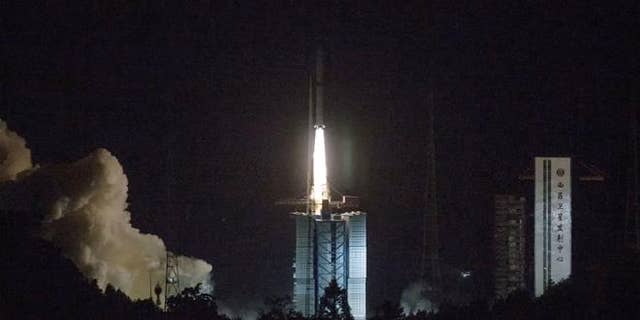 NEWYou can now listen to Fox News articles!
While China and the US go back and forth on tariffs here on Earth, the former is forging ahead with a more celestial grand plan. In what it hopes will eventually nab it a world first, China on Monday launched its Queqiao (aka "Magpie Bridge") satellite, per state media, putting it one step closer to being the first country to land on the so-called dark side of the moon, the Guardian reports.
So far, no probe has ever successfully made it to the part of the moon we never get to see, mainly because of communications issues: Signals from a probe on the dark side wouldn't make it all the way back to Earth due to interference from moon rock.
By entering the moon's orbit about 282,000 miles from Earth, however, Queqiao will serve as a middleman between the Chang'e 4 lander-rover China plans to send to the dark side later this year and stations back on Earth, Space.com notes.
Set to a rousing musical score, a video of Queqiao's assembly to its rocket, followed by its launch, was disseminated by state media on Monday.
Two smaller satellites also went along for the ride, with a mission to collect radio astronomy data. This endeavor is a smaller part of China's larger initiative to make inroads in space exploration on the level of the US or Russia, who've long dominated the field.
When Chang'e 4 heads to the moon at the end of 2018, it will be carrying seeds for potatoes and a cabbage-like plant for a "lunar mini biosphere" test, per the Guardian, which adds China has big plans to send humans to the moon within the next 15 years or so.
(Some more on the "Moon Village" China wants to set up.)
This article originally appeared on Newser: China's Latest Move to Bring a Pink Floyd Song to Life