Captured World War II German U-boat revealed as dramatic pictures surface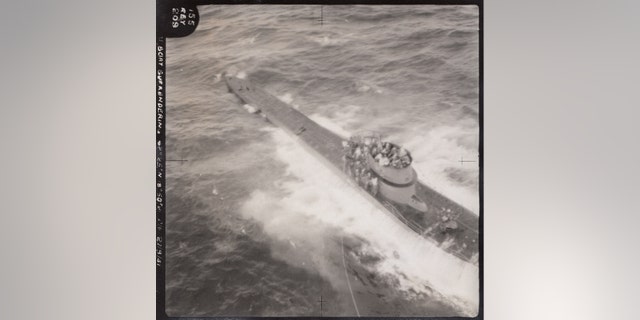 NEWYou can now listen to Fox News articles!
Incredible pictures showing the capture of a famous German U-boat during World War II will go on auction in the U.K. this weekend.
The pictures are part of an extensive archive of artifacts that belonged to Royal Air Force Officer Group Captain Montague Whittle, who commanded the RAF station in Iceland during World War II.
"It's an incredible archive of material," explained Henry Aldridge & Son auctioneer Andrew Aldridge, in an email to Fox News. "Coming from a RAF officer of this importance takes it to another level completely."
GERMAN WORLD WAR I SUBMARINE DISCOVERED INTACT WITH 23 BODIES INSIDE
The incredible aerial photos show the capture of submarine U-570 by British forces in August 1941. The U-Boat's crew, who were on their first patrol, raised the white flag after the sub was damaged by depth charges dropped from a British bomber on Aug. 27, 1941.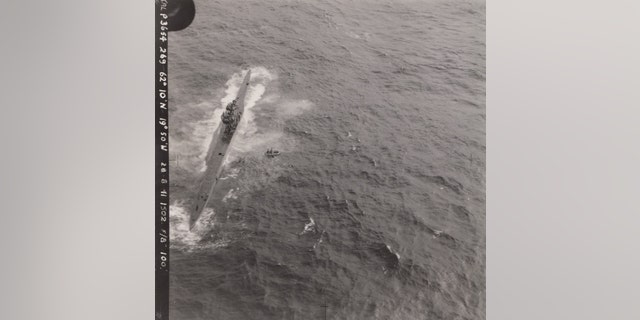 "This U Boat was one of the few to be captured during WWII and the submarine images are shown in graphic detail with the date and time they were taken shown on each image," explained Aldridge.
Some reports have linked the submarine to Allied forces' attempts to crack the Nazis' famous Enigma code although there are conflicting accounts of what happened to the sub's Enigma coding machine and codebooks.
WRECKAGE OF LOST WORLD WAR II BOMBER DISCOVERED IN THE NORTH SEA
It was publicly stated that, after their surrender, U-570's crew had destroyed and thrown overboard the sub's Enigma machine and codebooks. However, a confidential report by U.S. Navy officers dated Sept. 28, 1941 suggests that the valuable coding device may not have been destroyed. According to Defense Media Network, the report noted that "At least one German receiving or transmitting instrument had been removed . . . by the British." The report added that "a large cabinet had been removed from the forward corner of the control room by admiralty personnel soon after the capture and sent to England . . . In view of the vagueness of the information on the site as to the exact nature of this instrument it is considered important that accurate information be obtained from the Naval Attaché London."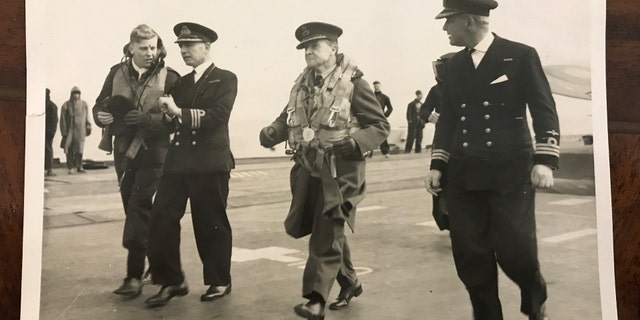 British forces already had valuable Engima material in their possession by the time that U-570 was captured. Months earlier, in May 1941 an Enigma machine and codebooks were captured from the German submarine U-110 after her surrender to the Royal Navy.
Nonetheless, U-570's capture is noteworthy because the U-boat was captured by an aircraft. The sub's crew raised the white flag to a Lockheed Hudson bomber flown by RAF Squadron Leader James Thompson.
USS WARD, SHIP THAT FIRED FIRST AMERICAN SHOTS OF WORLD WAR II, FOUND IN PHILIPPINES
Other Whittle artifacts in the lot include 5 pilot's logbooks, personal notebooks and personal letters, including a condolence letter from King George VI following the Group Captain's death in 1942. Whittle's Wing Commander and Group Captain shoulder flashes are included in the archive, along with photos of the officer.
The lot, which will be auctioned on Saturday, has a pre-sale estimate between $2,686 and $4,030.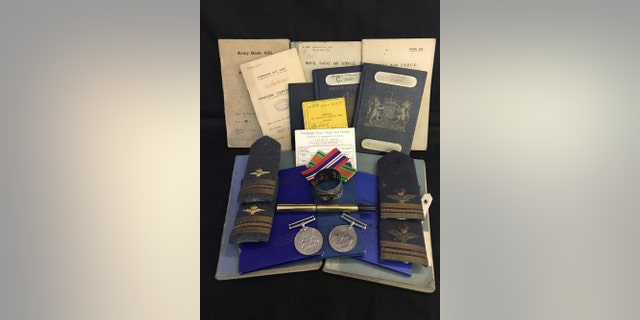 Follow James Rogers on Twitter @jamesjrogers