Cannibalistic great white shark eats relative as Virginia researchers watch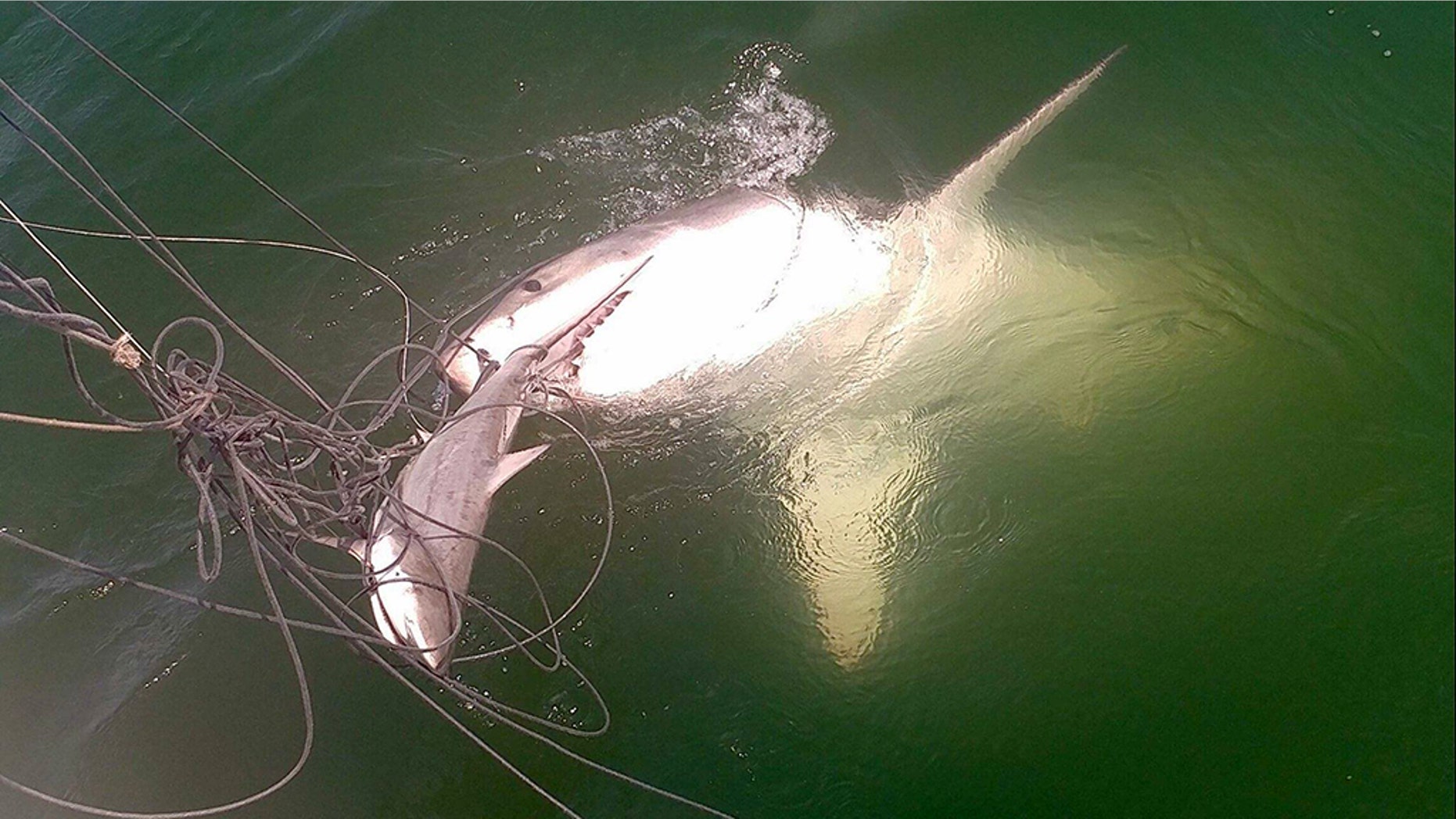 A Virginia Institute of Marine Science research expedition ended up discovering more about great white shark behavior than the researchers may have anticipated: great whites are cannibals.
The researchers, situated three and a half miles off the coast of Sandbridge, a Virginia Beach community, were conducting a longline fishing survey and had hooked 41 sharks. As the crew began to reel in the sharks, a 12- to 13-foot great white appeared.
According to the Virginian-Pilot, once the giant great white was near, it snatched a 4-foot black tip shark off the line.
The crew quickly scrambled to save the 40 other sharks they had caught.
The great white swam off after its meal and before researchers could bring it on board, but left behind quite a mess.
"We weren't expecting that one," said researcher Kaitlyn O'Brien, who shot pictures. "It made a real mess of our lines."
Though great whites have been caught in that area before, the size of the shark shocked researchers.
The Virginian Institute of Marine Science began studying mid-Atlantic sharks in 1973 with the VIMS Shark Survey. As stated on its website, the VIMS survey is the "longest-running fishery-independent study of shark populations in the world."
The study prompted the U.S. to create fishing regulations for sharks in 1993 after it discovered a significant decline in shark populations because of overfishing.
Since then, shark populations have been climbing steadily — but are still nowhere near as common as they once were in 1974.
According to data from VIMS research, as of 2014 large coastal sharks were still only about a quarter as abundant as they were in 1974.
Not everyone is happy about the return of the shark population.
Some commercial fishermen in Florida have complained about the abundance of sharks taking a bite out of their profits.