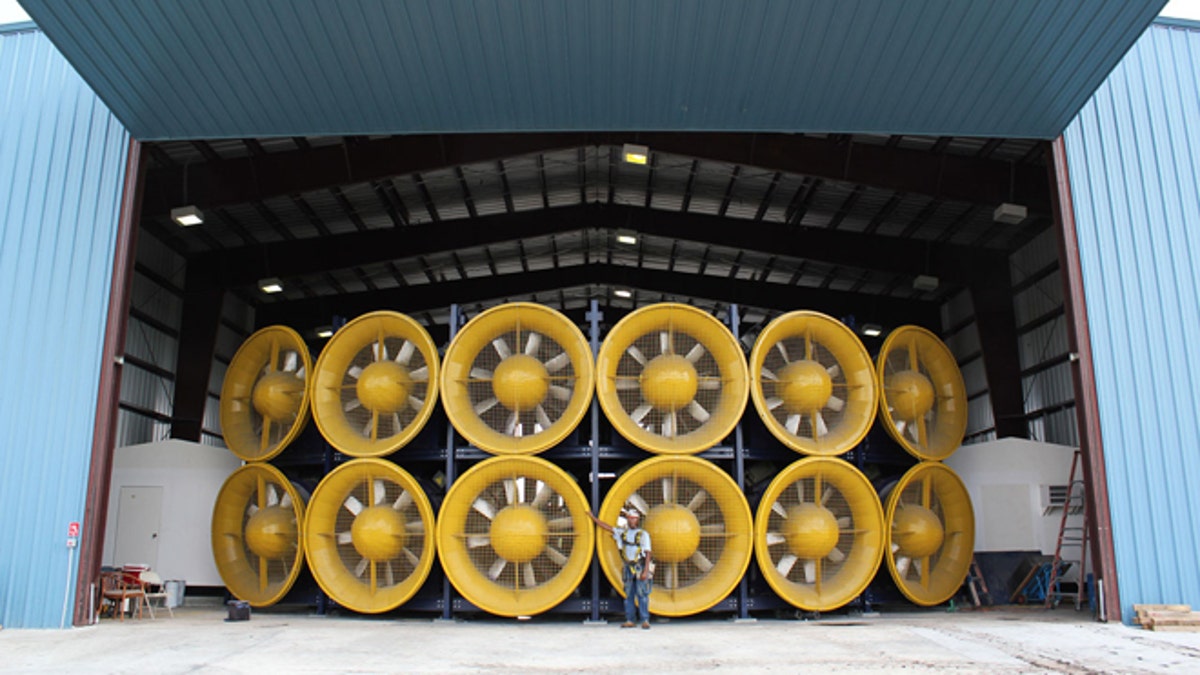 With the East Coast facing hurricane Sandy, one American university research team has built a "wall of wind" to help simulate -- and hopefully prevent -- a hurricane's destruction.
Florida International University Hurricane Research Center recently created a new hurricane simulator to help find ways to better protect homes and businesses. The university says the $8 million project is the nation's most powerful hurricane simulator, capable of replicating a category 5 storm's conditions.
Dubbed the Wall of Wind, it can engulf a single-story structure. Harnessing 700 horsepower, two layers of 12 fans, each 6 feet tall, can create winds reaching approximately 157mph, ultimately producing a wall of wind 15 feet high and 20 feet wide.
The simulator will test building designs and materials intended to ensure buildings withstand hurricanes.
The first Wall of Wind was constructed seven years ago with a two-fan system and was upgraded in 2007 to a six-fan system driven by gas engines and airboat props.
In the aftermath of Hurricane Andrew, Wall of Wind research helped reduce hurricane damage.
In addition to testing the efficacy of new mitigation technologies and materials, their recommendations were included in the 2010 Florida Building Code with a view to improving the robustness of roofs.
The newly upgraded Wall of Wind will let researchers test offices and homes believed to be "hurricane resistant" to see if they can genuinely resist such conditions.
Recently, the simulator tested two mock structures about the size of a shed: one with pre-Andrew construction codes and the second built with stricter standards including heavy duty nails, thicker plywood sheeting, and heavier roofing felt.
When the winds reached 160 mph, the research team reported that the roof shingles were the first to go.
Interestingly, pre-Andrew designs rated for withstanding 60 mph performed almost as well as the newer heavier products intended to withstand more than twice the winds, at 130 mph.
At category 2 strength, or 109 mph, the supposedly stronger shingles began to tear off; when the winds surpassed category 3, both test structures began to fail.
Flawed building practices contribute to hurricane damage to home and businesses in addition to damages. Hurricane Andrew for example caused approximately $26.5 billion in damages.
The Wall of Wind reveals some engineers and builders need to improve their game. After all, smart planning and building in advance can save lives.
Ballet dancer turned defense specialist Allison Barrie has traveled around the world covering the military, terrorism, weapons advancements and life on the front line. You can reach her at wargames@foxnews.com or follow her on Twitter @Allison_Barrie.