California fault line is 'tectonic time bomb' for disastrous earthquake, researchers say
Residents in the San Francisco Bay Area are living along a fault that is a "ticking time bomb" that could generate an earthquake that could kill hundreds, according to a report released Wednesday.
The U.S. Geological Survey said in a report called the "HayWired Scenario" that a magnitude 7.0 earthquake on Hayward Fault located under Oakland could kill as many as 800 people and injure up to 18,000.
"This fault is what we sort of call a tectonic time bomb," USGS earthquake geologist emeritus David Schwartz told the Los Angeles Times. "It's just waiting to go off."
Researches said the Hayward Fault is dangerous because it runs through "one of the most urbanized" areas in the nation, stretching along the East Bay from Richmond and Berkeley up north, through Oakland, and spanning south toward Fremont.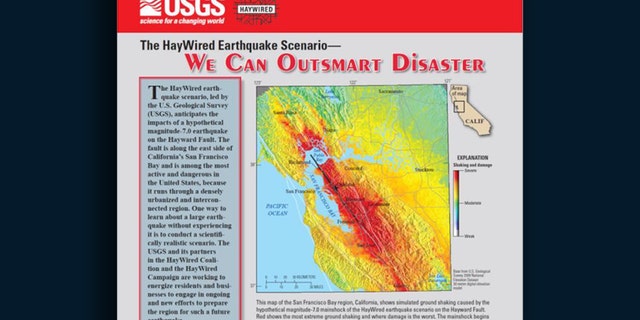 The USGS, citing findings from a simulated tremor with an epicenter in Oakland modeled to take place at 4:18 p.m. on April 18, said the disaster would cause 400 fires that could destroy 50,000 homes. Nearly half a million people would be displaced, authorities said.
Researchers said East Bay residents could be without water from anywhere between six weeks to six months, according to the report. Electricity could be out for up to four weeks in some locations.
Jack Moehle, a professor of structural engineering at the University of California at Berkeley, told KTVU the study shows that people need to get ready for the "big one."
VOLCANOES, EARTHQUAKES, TSUNAMIS: THE 'RING OF FIRE' EXPLAINED
"Preparedness for the inevitable earthquake is really important and that preparedness comes first at home and the workplace," he said. "But preparedness also occurs in how we build our buildings."
Researchers released the study the day before the 112th anniversary of the 1906 San Francisco earthquake that struck along the San Andreas Fault, located under the western part of Bay Area. That quake killed up to 3,000 people.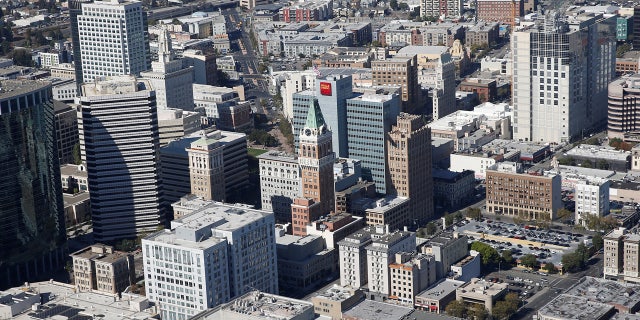 California is located along the volatile "Ring of Fire" seismic fault system.
More than half the world's active volcanoes located above ground are in this ring, according to the USGS.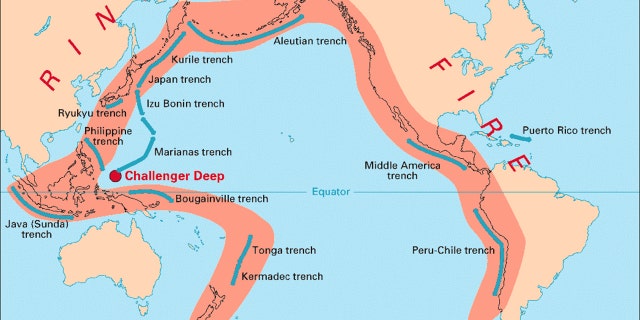 The region is the location of most of Earth's subduction zones, where oceanic plates slide under the lighter continental plates. Earthquakes tend to happen when those plates scrape or subside underneath each other, and, when that happens at sea, it can trigger tsunamis.