Bomb cyclone: See NASA's incredible 'temperature anomaly' pictures of US deep freeze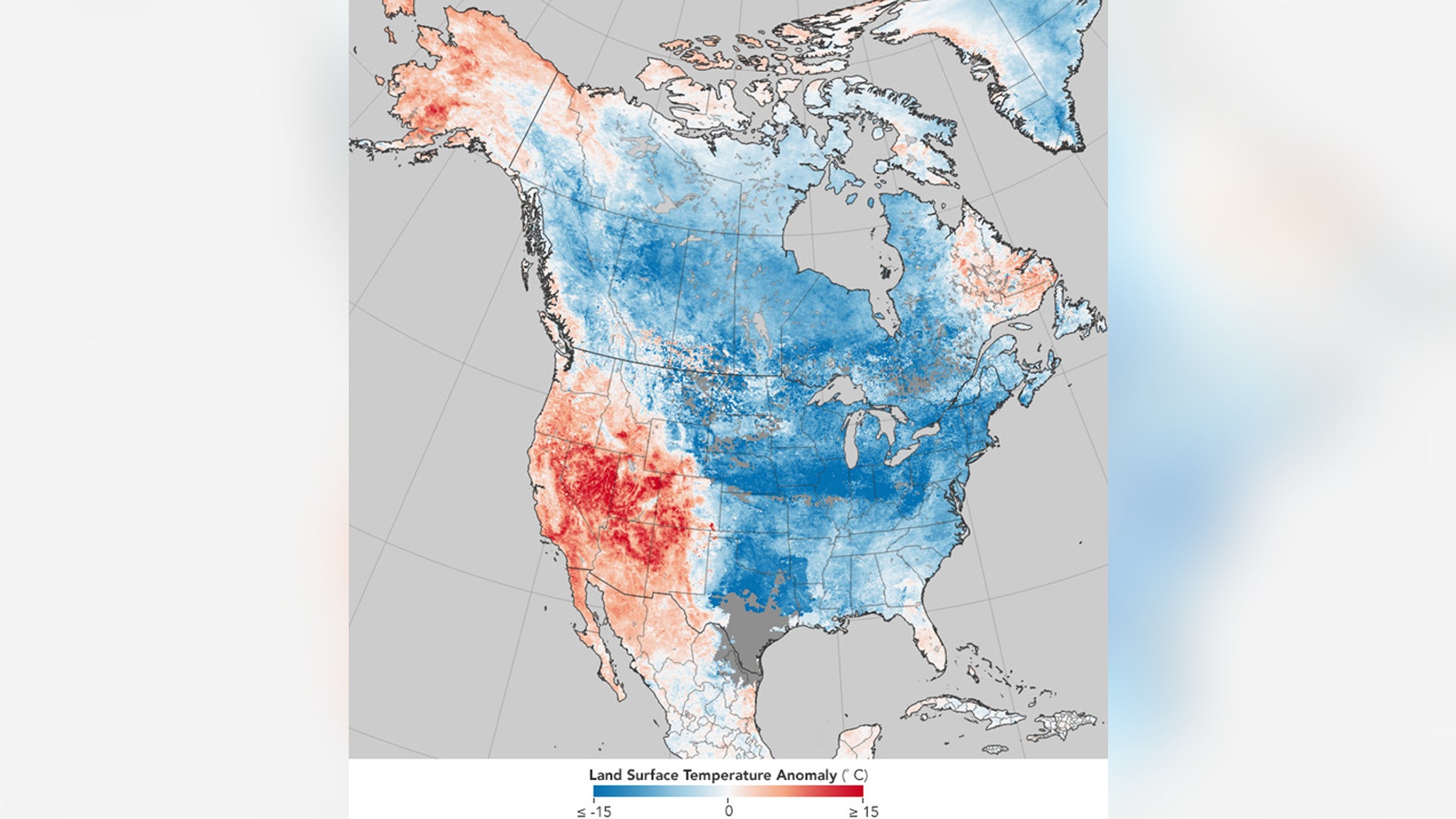 NASA's Earth Observatory has provided stunning images of the "temperature anomaly" in the U.S., as much of the country faces the perils of a winter storm dubbed the "bomb cyclone."
The image above, known as a temperature anomaly map, uses data from the Moderate Resolution Imaging Spectroradiometer (MODIS) on NASA's Terra satellite. The heat maps are land surface tempeatures taken from Dec. 26, 2017-Jan. 2, 2018 and are compared to the eight-day average from 2001 to 2010.
The red signifies temperatures that are hotter than average, whereas the blue depicts the opposite. White pixels are considered normal temperatures and gray pixels indicate not enough data has been accumulated.
'BOMB CYCLONE' WINTER STORM HITS EAST COAST: WHAT IS IT?
The winter storm, known as a "bomb cyclone" or "bombogenesis" by meteorologists, is expected to rapidly intensify as it makes its way through parts of the U.S. It's caused by a sudden pressure drop over a short period of time. "The central pressure of an area of low pressure (winter storm) must drop at least 24 millibars in 24 hours to qualify," Fox News' Senior Meteorologist Janice Dean said Wednesday.
Much of the U.S. is experiencing low temperatures as the record-breaking cold moves up the Eastern Seaboard from the Carolinas to Maine.
Blizzard warnings and states of emergency were in effect, schools and government offices closed for the day and motorists were warned to be careful as conditions began to worsen.
Ankle deep snow and wind gusts approaching 50 mph (80 kph) covered Maryland's Ocean City Boardwalk, which was under a blizzard warning Thursday. In New Jersey, 4 inches (10 centimeters) of snow had fallen in Margate.
The massive storm began two days ago in the Gulf of Mexico, first hitting the Florida Panhandle. It has prompted thousands of canceled flights, shuttered schools and businesses and sparked fears of coastal flooding and power outages.
THESE NASA ROBOTS ARE HEADED TO THE INTERNATIONAL SPACE STATION
Wind gusts of 50 mph to 60 mph, strong enough to cause downed trees and power lines, are predicted in places where the National Weather Service has issued blizzard warnings. They include the Delmarva Peninsula, which includes parts of Delaware, Virginia and Maryland; coastal New Jersey; eastern Long Island, New York; and coastal eastern New England.
Winter storm warnings stretched as far south as South Carolina on Wednesday night, but National Weather Service Meteorologist Dan Peterson said the storm should be over by early Thursday in the southern states. For most of Thursday, he said, the storm will impact the Northeast, with Boston possibly getting up to 14 inches of snow. The storm will then be followed by a wave of bracing cold.
"We think there are going to be scattered records broken for low temperatures," said Peterson, adding that the weather service expects 28 major cities across New England, eastern New York and the mid-Atlantic states will have record low temperatures by dawn on Sunday.
State and local officials urged residents to prepare for possible power losses and stay home so crews can clear streets and roads of what could be as much as foot or more of snow in some places. There were concerns in Boston and elsewhere that if roads aren't properly cleared, they could freeze into cement-like icy messes by Friday, given the expected low temperatures. In other areas, plummeting temperatures already have caused water mains to burst.
'BOMB CYCLONE' WINTER STORM BRINGS SNOW, FIERCE WINDS TO NORTHEAST AS BITTER COLD TO FOLLOW
Twitter has fun with 'bomb cyclone'
Twitter users were posting images of the winter storm, with some having a bit of fun with the #bombcyclone hashtag, adding pictures and memes of the record-breaking cold.
"Gravity waves propagating outward from deep convection associated with a #BombCyclone off the Carolina coast. @NOAA #GOES16 infrared imagery," NASA SPoRT wrote on Wednesday night.
Others referenced images from movies and TV shows such as "Game of Thrones" or "The Day After Tomorrow."
Record breaking temps take a toll
The blast of winter weather and plunging temperatures that has gripped much of the U.S. in recent days already has taken a human toll.
The number of deaths linked to the relentless cold had risen to at least 17 on Wednesday. Two homeless men were found dead in Houston, where police said the deaths were believed to be the result of "exposure to frigid weather." Deaths also were reported in Mississippi, Michigan and other states.
Fox News' Kaitlyn Schallhorn and The Associated Press contributed to this report. Follow Chris Ciaccia on Twitter @Chris_Ciaccia.