Bolivia releases 70,000 baby turtles into Amazonian river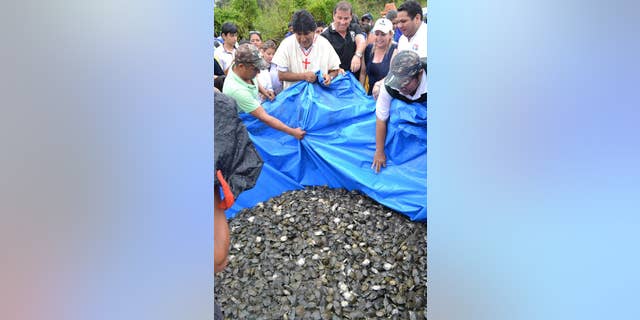 More than 70,000 baby turtles in danger of extinction were released on Tuesday into a river in the Bolivian Amazon bordering Brazil.
The release into the San Pedro River was preceded by a ceremony attended by President Evo Morales and the governor of Beni, the province where the act took place.
"When there is will, when there is a decision, it is possible to conserve our heritage," Morales said, praising the conservation efforts in Beni.
The program, in place since 2007, involves recovering turtle nests from riverbanks, caring for the eggs and the young turtles until they develop a shell that is hard enough to protect them from predators.
The initiative is part of the Repopulation of River Turtles Project, aimed at protecting turtles of the species 'podocnemis expansa' and 'podocnemis unifelis.'
As adults, these turtles can measure up to 3 feet, weigh up to 150 pounds and live 100 years.
They are believed to play a key role in the ecosystem, because they help reforest flooded forests and are good indicators of climate change.
The turtle protection program has allowed the release of 10 million turtles in recent years.
Based on reporting by EFE.