Bill Nye: Internet is helping launch the next generation of scientists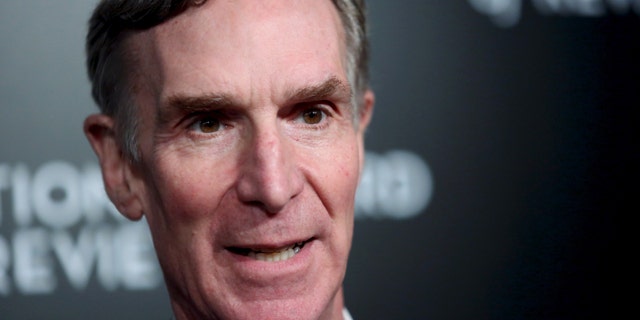 NEWYou can now listen to Fox News articles!
Bill Nye says that the Internet-savvy children of today have a great platform for building careers in science.

Nye, famous for his TV show "Bill Nye the Science Guy" spoke to FoxNews.com from Washington D.C., where the national winners of ExploraVision, the world's largest K-12 science competition, were being honored.
"Kids now can spend time thinking. When I was a kid doing a science fair like this I had to spend a lot of time in the library," he said, via phone, noting that today's children have vast Internet resources at their disposal. "Kids can get a lot of information about material science – they can do a lot more research than we used to be able to do."
Related: Lockheed Martin makes major STEM push to inspire young space innovators
ExploraVision, which is sponsored by Toshiba and administered by the National Science Teachers Association (NSTA), challenges students to use scientific research for future technologies.
Nye used the example of Rothesay Netherwood School in New Brunswick, which won the grade 7-9 award for a bulletproof vest concept that uses nanoparticles. "It's bulletproof material made of magnesium oxide," he said, adding that the material could also be ideal for spacesuits.
Other projects on show in Washington D.C. included a bionic eye implant design by University Laboratory High School in Urbana, which won the grade 10-12 prize, and an edible water bottle from Chapman Hill, in Salem, Ore., which grabbed the grade K-3 second place prize. The goal is to develop the winners' projects within the next 20 years.
Related: Inspiring young minds to embrace what is all around them
Nye told FoxNews.com that sparking an interest in STEM (Science Technology Engineering and Math) at a young age is crucial. Research indicates that people develop a lifelong passion for science before they reach the age of 10, he explained.
The scientists of tomorrow will find themselves dealing with challenges around energy and climate change, according to Nye. "We need to have innovation, we need to have new ideas and ways of doing things, especially with regard to renewable energy," he said.
Nye expects to see key developments in battery and automotive technologies over the next 20 years. "What we're hoping is that people will develop more efficient batteries," he explained. "I could easily imagine a future where most of the driving is done automatically and with electric vehicles."
Related: Professor solves 300-year-old math mystery, wins $700,000
So, what advice would he give to children eyeing a career in science? "Make sure you learn algebra," he said. "Algebra is the single most reliable indicator of whether someone pursues a career in science."
Nye also urges young scientists to develop their writing skills. "I always tell people to learn to write – whatever job you do, you will always end up writing," he said.
Follow James Rogers on Twitter @jamesjrogers