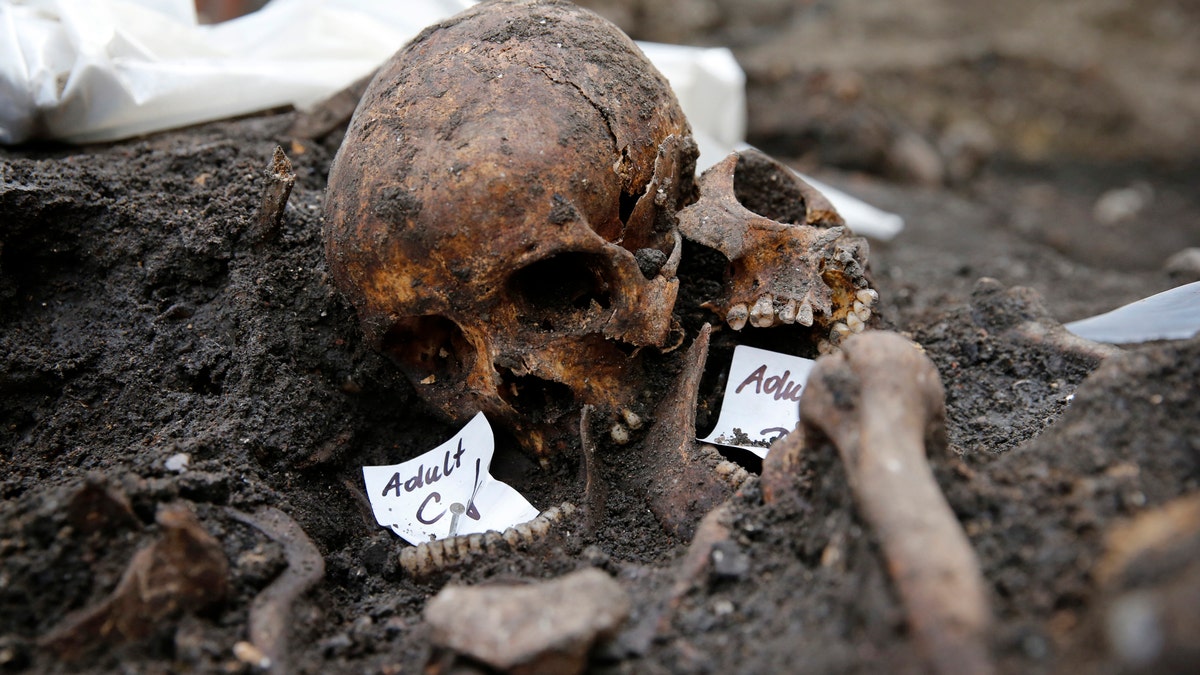 Archaeologists could pull thousands of skeletons out of the ground in London over the next few weeks as they dig up the 450-year-old Bedlam graveyard to make room for a new train line.
London's Liverpool Street station is under construction so that it will be able accommodate a new east-west train line, dubbed Crossrail. The tracks will be laid deep underground, about 130 feet below the city's current street surface.
And to get down there, excavators have to slice though a rich archaeological layer cake that includes a Roman road, a medieval marsh and the abundant graves of the Bedlam cemetery. [See Photos of the Bedlam Graveyard Excavation]
"Construction for Crossrail is providing rare and exciting opportunities for archaeologists to excavate and study areas of London that would ordinarily be inaccessible," Nick Elsden, project manager with the Museum of London Archaeology (MOLA), said in a statement. "There are up to 19.6 feet of archaeology on site, in what is one of the oldest areas of the city, so we stand to learn a great deal."
MOLA experts have been working with Crossrail for more than a decade to prepare for the massive excavation, which will involve 60 archaeologists working in shifts six days a week for at least a month.
Their focus is the Bedlam graveyard, which was used intensively from 1569 to the 1730s and got its name because it was located near the original Bethlem Royal Hospital (notoriously known as Bedlam). The cemetery was an overflow graveyard outside the original city walls of London, and many of the remains buried there overlap with each other.
There are typically about three to six skeletons per 35 cubic feet, Elsden said in an email to Live Science, so it's possible that 3,000 graves will be found in the excavation area. That's still just a fraction of the estimated 20,000 total burials at the cemetery.
Archaeologists probably won't be able to identify most of the skeletons they find. Some coffin plates have been found, but they are so heavily corroded that they are illegible, Elsden said. When the burial ground went out of use in the 18th century, the site was quickly built over to accommodate the expanding city; some gravestones were reused in later buildings and walls. Among the few gravestones that have been found is one that marked the final resting place of Mary Godfree, a woman who died of the plague in the 17th century.
Volunteers who pored over historic parish burial registers from across the city compiled the names of more than 5,000 people buried at the site, according to Crossrail officials. Among the more notable figures believed to have been buried at Bedlam are Lodowicke Muggleton, founder of the "Muggletonian" radical Protestant movement, and John Lambe, an astrologer who inserted himself into the English royal court and was stoned to death by an angry mob after he was accused of black magic and rape.
There's likely much more to be found below the graveyard, too. During previous trail excavations as part of the Crossrail project, archaeologists found animal-bone ice skates that date to the medieval period, when the site was a marsh. Excavators found a number of hipposandals (like ancient horseshoes) from the Roman era, when there was a road running through the area. Further east, in North Woolwich, archaeologists found 150 bits of 9,000-year-old stone tools while digging a tunnel for the new train line.
Copyright 2015 LiveScience, a Purch company. All rights reserved. This material may not be published, broadcast, rewritten or redistributed.