Bear in Georgia hit, killed by car marks eighth this year, wildlife officials say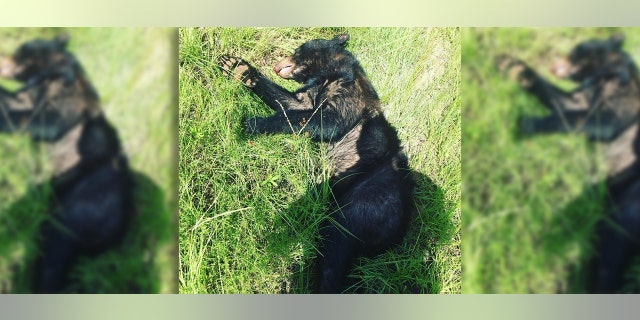 Authorities with the Warner Robins Police Department found a dead bear on Wednesday, marking the eighth to be hit and killed in middle Georgia so far this year, wildlife officials said.
The male bear, approximately a year-and-a-half old, was found at an intersection in Warner Robins, according to WGXA-TV. It weighed roughly 80 pounds.
Kevin Kramer, a spokesperson with the Georgia Department of Natural Resources (DNR), told the news station there have been eight "bear roadkills" in the middle of the state this year. Overall, there are about 20 per year, he said, adding that at least three of the bear roadkills this year have weighed more than 400 pounds.
POLAR BEAR KILLS CANADIAN MAN PROTECTING HIS CHILDREN, REPORT SAYS
During the summer, bears search for mates. The continuous movement increases the chance for a bear to be hit by a car, Kramer explained.
"Slow down and give them time to cross the road," he suggested.
"Roads are usually barriers to bears. They don't usually try to cross busy roads -- and when they do, it doesn't usually end well," he added.