Bad Weather Delays Shuttle Discovery Landing for Day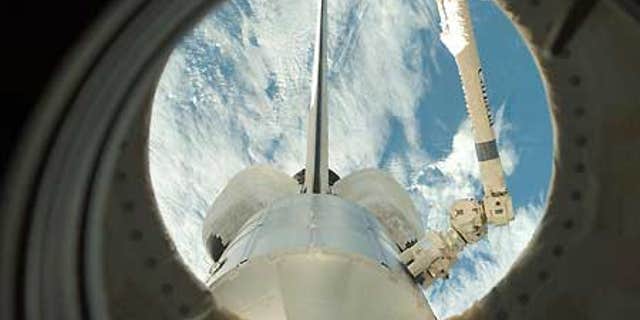 CAPE CANAVERAL, Florida – Bad weather prevented space shuttle Discovery from returning home Thursday and kept its astronauts circling the world for at least an extra day.
Mission Control skipped the first landing attempt because of wind and rain. The wind eased but the rain lingered for the second attempt, and officials could not get comfortable enough with bringing Discovery and its crew of seven back from their space station delivery mission, now stretching 14 days.
Flight director Richard Jones waited as long as possible before deciding, with just minutes to spare, to give up for the day.
"Just doesn't look like it's coming together for us," radioed Mission Control.
"We know that everybody worked it as hard as they could," replied commander Rick Sturckow, "and we'll look forward to trying again."
Discovery's next chance at returning will be Friday at 5:48 p.m. (2148 GMT). Forecasters already are dubious; conditions are expected to be even worse than Thursday. The weather improves only slightly Saturday.
Late Thursday, Jones decided to call up the backup landing site in Southern California — Edwards Air Force Base — for the next go-around. He made it clear that if the weather remains poor in Florida, then the shuttle will be diverted to Edwards. The cross-country ferry trip eats up $1.7 million and just over a week, however, which is why NASA prefers sending shuttles straight to their home port.
Discovery has enough supplies to remain in orbit until Sunday.
There was a bit of excitement earlier in the day when the shuttle astronauts had to steer clear of a mysterious piece of space junk. The debris apparently came from the shuttle or international space station, while the two were still linked. It's believed to have become dislodged during the crew's third and final spacewalk Saturday.
Specialists did not know how big the piece was — or even what it was — but determined it was going to pass uncomfortably close to Discovery beginning Thursday afternoon. The threat went away after the pilots slightly lowered the shuttle's orbit.
NASA kept a close watch with two other pieces of space junk during the flight, while the shuttle still was docked to the international space station. But no dodging was required in those cases.
There was good news Thursday on the space station front: A brand new Japanese cargo ship successfully rocketed into orbit carrying a full load of supplies. It's due at the outpost next Thursday. It will be plucked from orbit by the station's robot arm.
Discovery dropped off tons of equipment and experiments at the space station, as well as a fresh crew member. The shuttle is returning with garbage, surplus gear, science samples, a former station resident and Buzz Lightyear. The 12-inch action figure doll has been in orbit for 15 months and awaits a tickertape parade at Walt Disney World.