Astronauts undock from Space Station, return to Earth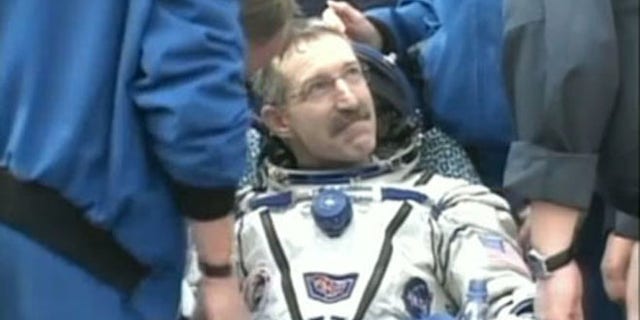 NEWYou can now listen to Fox News articles!
BAIKONUR, Kazakhstan – A U.S. astronaut and two Russian cosmonauts landed back on Earth on Friday after a nearly six month expedition to the International Space Station.
Dan Burbank, Anton Shkaplerov and Anatoly Ivanishin boarded a Soyuz TMA-22 spacecraft at 1:12am ET and undocked from the space station three hours later. They landed in the central steppe of Kazakhstan at 7:45 a.m. EDT.
The three men were launched into space on board a Soyuz rocket from Baikonur Cosmodrome, in southern Kazakhstan, on Nov. 13.
Burbank said Wednesday, "It's hard for me to believe that our nearly six-month expedition is coming to an end. It seems like Anton, Anatoly and I just arrived in our Soyuz yesterday. This has been an amazing experience, living and working for half a year aboard the ISS in space. We've accomplished a lot in that time."
The three have helped to overhaul the space station's computer system, installed hundreds of feet of high-speed cabling and made dozens of equipment repairs. Shkaplerov also carried out a spacewalk to relocate a telescoping robotic arm.
Their Soyuz craft will deploy parachutes as it begins to descend, before three small engines will fire to soften its landing -- scheduled for around 7:45am ET. They will then be extracted from the craft by support personnel and monitored by flight surgeons, NASA said.
Command of the space station was passed to Russian cosmonaut Oleg Kononenko who remains on board with US flight engineer Don Pettit and Dutchman Andre Kuipers until July 1.
Another expedition -- comprised of American astronaut Joe Acaba and Russian cosmonauts Gennady Padalka and Sergei Revin -- is due to join them in mid-May. They are currently completing their training at the Gagarin Cosmonaut Training Center in Star City, Russia.