Astronauts Successfully Finish Mission's First Spacewalk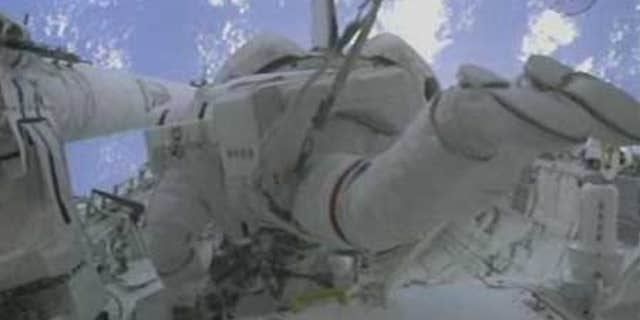 Two astronauts breezed through the first spacewalk of their mission Thursday as they upgraded the International Space Station with a spare antenna and other gear.
Atlantis shuttle astronauts Mike Foreman and Robert Satcher, Jr. zoomed through more than six hours of orbital work outside the station to install a large spare antenna and connect some new data cables. At times, they were two hours ahead of schedule.
Satcher, an orthopedic surgeon-turned-astronaut, also put his Earthly skills to work by greasing up some snares that serve as grasping "hands" on a Japanese robotic arm and a station attachment point. It was delicate work.
• SLIDESHOW: Atlantis astronauts go for a spacewalk
• SLIDESHOW: Space Shuttle Atlantis mission in pictures
"We have photographic evidence of the highest-recorded orthopedic surgery...ever," joked crewmate Randy Bresnik, who choreographed the spacewalk from inside Atlantis. "We know NASA didn't just hire Bobby for his good looks."
Foreman and Satcher began their orbital work at 9:24 a.m. EST, but swiftly tackled their main chore to move the hefty spare antenna from Atlantis' cargo bay to a storage point on the station.
"What a beautiful view," Satcher exclaimed as he began the first spacewalk of his career while flying 220 miles above Earth.
But Foreman, a veteran spacewalker on his fourth excursion, had his eyes on his partner.
"Hard to believe Bobby, but I think your feet look bigger from space," he said.
The astronauts were so far ahead of schedule, they even managed to squeeze in an extra chore during the six-hour, 37-minute excursion.
"You guys are rocking the house," Bresnik told the spacewalkers.
For the extra task, they deployed a swing-out platform to hold even more spare station gear in the future, but had to tackle some tough bolts in the process. In the end, Foreman had to bang on the bolt with a hammer while Satcher wiggled it to free the stuck part.
"You guys get the official MacGyver award for your work on that," Bresnik said.
Thursday's spacewalk came one day after Atlantis arrived at the station with six astronauts aboard.
The astronauts have already delivered one massive cargo carrier laden with other spare parts - among them extra pumps, a gyroscope and tons of other gear. A second carrier will be installed later in the flight.
Atlantis' 11-day mission blasted off on Monday. It is largely a delivery run to stock the space station with spare parts that can only be hauled by a NASA shuttle.
NASA plans to retire its three remaining space shuttles by the end of next year and wants to store as many spare parts on the station as possible to keep it running through at least 2015, and possibly longer pending a review by the Obama administration.
The spacewalk was not the only high point in space Thursday.
American astronaut Nicole Stott celebrated her 47th birthday aboard the space station as she prepares to return home next week aboard Atlantis. Stott has lived on the station since late August and is looking forward to seeing her husband and son back on Earth.
Bresnik also has other things on his mind. His wife Rebecca is expected to give birth Friday to a baby girl, the couple's second child, in Houston, Texas.
Mission Control roused the crew with the song "In Wonder" performed by The Newsboys, a tune chosen for Bresnik by his wife.
"Thanks to my wonderful wife Rebecca for that song and the wonder of creation that's going on inside of her and what's going to happen tomorrow," Bresnik radioed Mission Control.