Astronaut Scott Kelly: I could have spent longer in space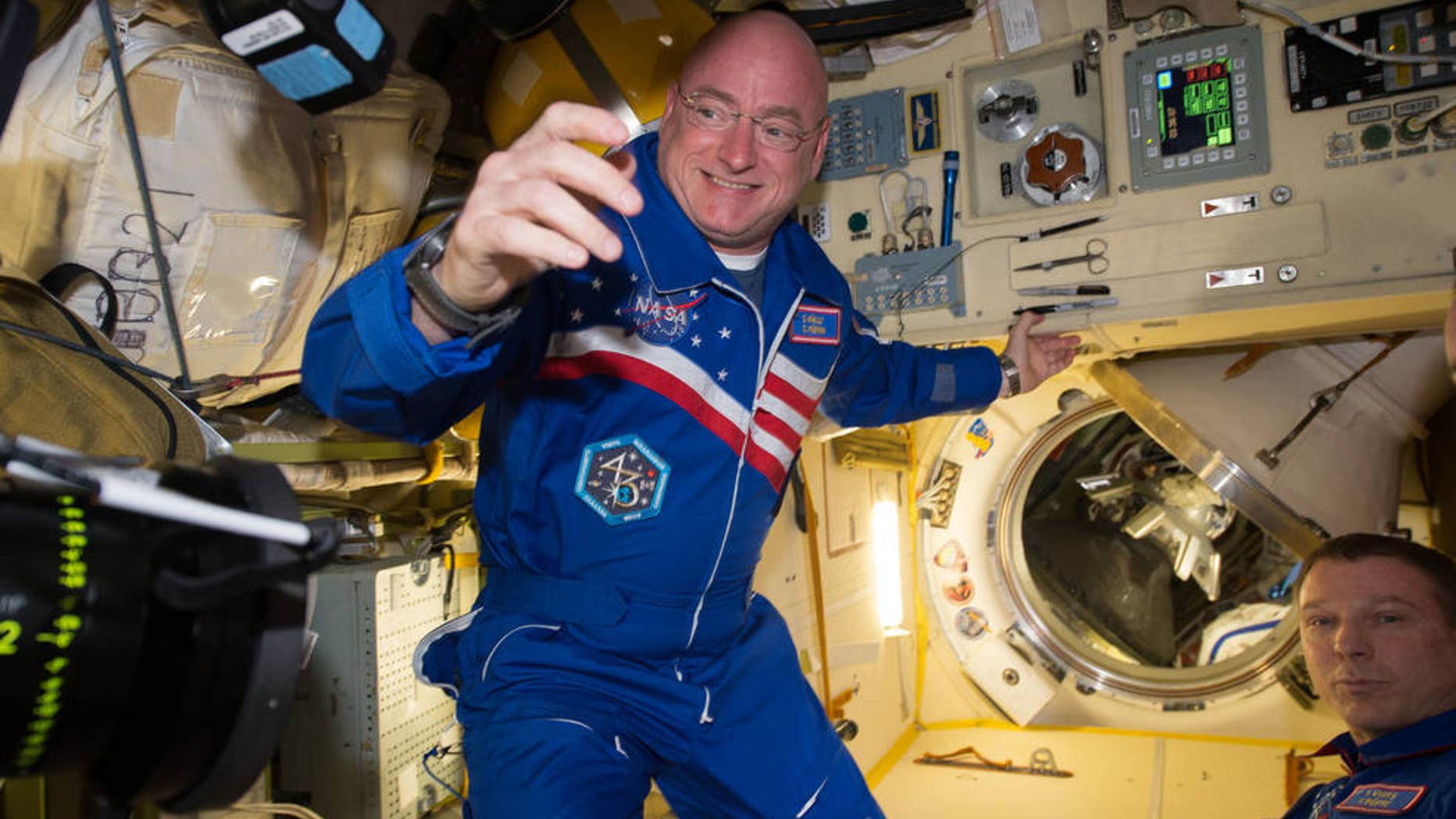 Just days after ending his after his epic 340-day stint on the International Space Station NASA astronaut Scott Kelly says that he could have stayed in space longer.
"I could have gone longer on this flight if there was good reason," he said, during a press conference in Houston Friday.  "Whether it's science, or going to a certain destination."
The former Navy pilot explained that he focused on milestones that were close to each other during his year in space, such as the next crew arrival or science project. "That made a big difference to me, just for my sanity," he said.
The Soyuz capsule carrying Scott Kelly and his 340-day roommate, Russian cosmonaut Mikhail Kornienko, landed in Kazakhstan Wednesday. The astronaut arrived back in the U.S. early Thursday, via Norway and Canada.
Related: Astronaut Scott Kelly back on Earth after yearlong space mission
The yearlong stay on the International Space Station was Kelly's fourth space mission - his previous stint on the space station, which ended in 2011, was 159 days. "My level of muscle soreness and fatigue is worse than last time," he said Friday, adding that his skin is also very sensitive. In the space station's micro gravity, he explained, fewer objects touched his skin.
Kelly conducted hundreds of experiments during his 340 days in space. Scientists also studied the differences between the astronaut and his twin brother, Mark, back on Earth. They provided blood, saliva and urine samples, underwent ultrasounds and bone scans, got flu shots and more, all in the name of science.
"This genetic-based research is new for us, so that for me is very exciting," said Kelly, during Friday's press conference.
The astronaut was also asked whether he has noticed any differences between him and his brother. "He's got a better tan," he quipped. "I think it's because he plays too much golf."
Related: Astronaut Scott Kelly was 2 inches taller after his epic year in space
Kelly also addressed his temporary height gain in space, which has generated significant attention. The low gravity of space elongated the astronaut's spine during his time on the International Space Station, making him 1½-inches taller on his return.
However, Kelly said that he is now the same height as his twin brother. "Gravity pushes you back to size," he explained.
Kelly also revealed that the first food he ate on his return was a banana. He also took a dip in his swimming pool when he finally made it back to his home on Thursday. "Even though I had a shower in Canada, I hadn't had running water for 340 days," he said. "We make do with not having a shower on board [the space station] – I definitely feel like I would like jump in a pool."
Kelly also discussed the Microsoft HoloLens virtual reality technology that he tested in space. "I think that VR has a lot of potential," he said, explaining that ground personnel could give astronauts information such as real-time drawings for spacecraft maintenance.
Related: Year in space paves the way for even longer missions, says Scott Kelly
Shortly after returning to Earth Wednesday Kelly said that his year in space will help fuel longer-term space missions, paving the way for NASA's ambitious plan to send humans to Mars.
He reiterated this message Friday. "I think going to Mars, if it takes two years or two-and-a-half years, that's doable," he said. "The first people that go there, that will be a big motivation, to be the first people that go to Mars."
NASA's goal is to send a manned mission to Mars by 2035 – a vast roundtrip journey that could take 2½-years.Radiation also poses a major challenge for Mars missions, along the durability of astronauts' bodies and minds.
"There are challenges that we have to meet, like the radiation issues," said Kelly. "Maybe we have a propulsion system that gets us there faster  - I think we know enough and we're close enough."
Related: Yearlong spacemen embrace fresh, frigid air back on Earth
Kelly, however, does not expect to fly in space for NASA again. "I doubt that I would fly again with NASA, having the most time in space," he explained. "We have so many talented people in our office, they don't need me to fly again."
The astronaut, who says that he will "never be done with space," nodded in the direction of private space companies. "There are many exciting opportunities out there, maybe in the commercial aspect," he added.
The Associated Press contributed to this report.
Follow James Rogers on Twitter @jamesjrogers