Asteroid that killed dinosaurs may have darkened Earth for two years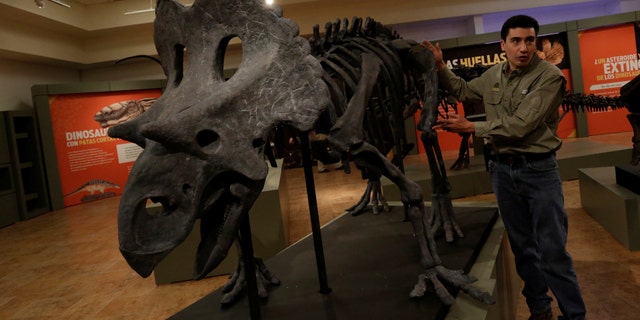 When a 6-mile-wide asteroid crashed into the Gulf of Mexico 66 million years ago, it caused a devastating wave of earthquakes, volcanoes, and tsunamis that killed untold number of animals and ended the reign of the dinosaurs.
Then things got really bad. In a study published Monday in PNAS, scientists used a computer model to look at the climate effects of the asteroid's impact—namely plunging the Earth into darkness for up to two years.
According to a press release, vaporized rock from the impact would have fallen back to Earth, igniting global wildfires and sending 15 billion tons of soot into the atmosphere, blocking out the sun.
"It would have been about as dark as a moonlit night," co-author Owen Toon says. It also would have effectively stopped photosynthesis for more than 18 months.
Those months of darkness help explain how the asteroid impact killed off more than 75% of Earth's species—including some that could have hidden from the immediate devastation underground or underwater, New Atlas reports.
For one, the lack of photosynthesis would have killed off phytoplankton, the basis of the food chain in the ocean. For another, all that soot caused global temperatures over land to drop 50 degrees.
According to Seeker, it took seven years for temperatures to return to normal. The soot also damaged the ozone layer, allowing in harmful ultraviolet light.
Researchers say their computer model could be used to predict the effects of nuclear war, which would similarly send mass amounts of soot into the atmosphere.
(These weird creatures will live long enough to see the sun die.)
This article originally appeared on Newser: When Dinosaurs Were Killed, Earth Went Dark for 2 Years