Asian elephant born at Ohio zoo was conceived via artificial insemination, officials say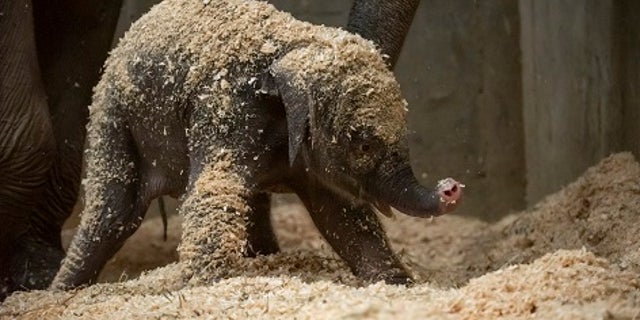 The Columbus Zoo in Ohio has officially added a new member to its animal kingdom: an Asian elephant, which was born early Thursday morning.
The calf is the first elephant to be born at the zoo in nearly 10 years, The Columbus Dispatch reported. Its mother, a 31-year-old Asian elephant named Phoebe, conceived the calf after she was artificially inseminated with sperm from two different male elephants. DNA testing, later on, will confirm which one fathered the calf.
FARMER CLAIMS HIS HUGE 6-FOOT, 5-INCH COW IS BIGGER THAN GIANT VIRAL SENSATION KNICKERS
The baby elephant's sex is not yet clear. Zoo officials are giving it time to bond with its mother, which gave birth to her first baby in 1999, according to the newspaper.
The Columbus Zoo on Facebook wrote Phoebe is an "experienced mom" and added the calf "appears to be strong."
WISDOM, THE WORLD'S OLDEST WILD BIRD, LAYS ANOTHER EGG AT 68
"This calf's birth is important to sustaining the genetic diversity of Asian elephants in human care," the zoo continued, noting the species is considered endangered.
The public will have an opportunity to name the calf.
The Associated Press contibuted to this report.