As Weather Worsens, Friday Shuttle Launch in Jeopardy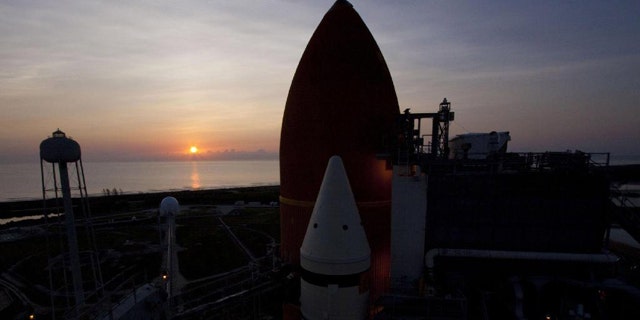 NEWYou can now listen to Fox News articles!
CAPE CANAVERAL, Fla. – With lightning strikes and thunderstorms nearby, NASA is already struggling to meet its own deadline for the Friday a.m. launch of Atlantis -- the last space shuttle liftoff ever.
The bad weather has already delayed NASA's 2:00 p.m. ET rollback of the pad's Rotating Service Structure (RSS), a retractable service tower that facilitates fueling and loading the spacecraft before lift-off. The RSS began moving away from Atlantis at 2:38 p.m. ET.
Forecasters say there's a good chance that rain or thunderstorms will prevent Atlantis from flying Friday; it is scheduled for one final blast off at 11:26 a.m. NASA predicts a 70 percent chance of gloomy skies that could force a delay.
"We don't expect severe weather, it's just our typical tropical stuff," said NASA spokeswoman Candrea Thomas during a Thursday morning press conference. "We even had a thunderstorm show up this morning."
NASA test director Jeff Spaulding agreed, pointing out that space shuttles have managed to launch with worse forecasts.
"There's some opportunity there," he said Thursday as the rain set in. "It's a really tough day if you make a decision not to go and it turns out to be good weather."
No hail or other severe conditions are anticipated, and mission managers say the weather would have to get worse before the launch is called off. But even rain and mild storms are enough to force a delay in the blast off: A rain-free, storm-free zone is needed 23 miles around in order for the shuttle to take off as planned.
Late Thursday morning, lightning struck one-third of a mile from the launch pad. No immediate damage was reported, but technicians hurried out to check for any signs of electrical problems. Lightning strikes haven't delayed any shuttle launches in recent years.
So NASA has one eye to the sky even as the space agency prepares for tonight's "tanking" procedure, where the shuttle's external booster engine is filled with hundreds of thousands of gallons of cryogenic propellant.
"Expect shower during tonight's tanking procedure," Thomas warned, noting that there is a 20 percent chance weather will prohibit the procedure. Lightning during this period is a particular problem, she noted.
NASA says Atlantis could fly Saturday instead, when there is a 60 percent chance of showers, or Sunday, when the chance of inclement weather drops to 40 percent. If the shuttle isn't flying by Sunday, it'll have to wait until at least July 16.
Up to 1 million people are expected to jam the area for the launch of the final mission. And the weather appears to be the only uncertainty: NASA has been proceeding on schedule regardless of inclement storms. The STS-135 astronauts had an early wakeup call Thursday morning as they continue to prepare for Friday's scheduled liftoff -- the final mission for space shuttle Atlantis and the Space Shuttle Program in general.
Atlantis will be carrying a year's worth of supplies and spare parts for the International Space Station and an experiment to demonstrate robotic refueling of satellites in orbit. The STS-135 mission will last 12 days.
When Atlantis returns, NASA will retire its three-shuttle fleet for good to make way for a new program aimed at deep space exploration. The 12-day voyage by Atlantis should culminate with a touchdown back at Kennedy on July 20, the 42nd anniversary of man's first steps on the moon.
"There's an old saying that says it's better to travel well than to arrive," Spaulding said. "And I'd have to say after the last 30 years, certainly our program and these shuttles, throughout all of their missions, have traveled very well. And after 135's landing, I think we can say at that point that we've arrived."
Newswires contributed to this report.