As Hurricane Florence lashes North Carolina coastline, zoos prepare for the worst
COLUMBIA, S.C. – A room on the first floor of North Carolina Zoo's animal hospital has been converted to an indoor aviary, with parrots and cockatoos squawking and flying in enclosures designed to keep them safe.
The siamangs, which normally swing from branch to branch in their leafy compound, are being ushered to an underground enclosure that withstands strong winds and flooding. Flamingos are being shepherded to spare rooms in the animal hospital, which is above ground. A plastic pool was set up next to them so they could play.
Zoos all across the Carolinas are preparing for a monster storm that on Thursday began lashing the East Coast with tropical-force winds. Employees have been securing loose items, like banners and tarps, and making sure the animals will be well fed and well protected.
At the North Carolina Zoo, a "ride-out crew" consisting of arborists, veterinarians, keepers and park rangers is being assembled to stay at the zoo during the storm to take care of any emergencies.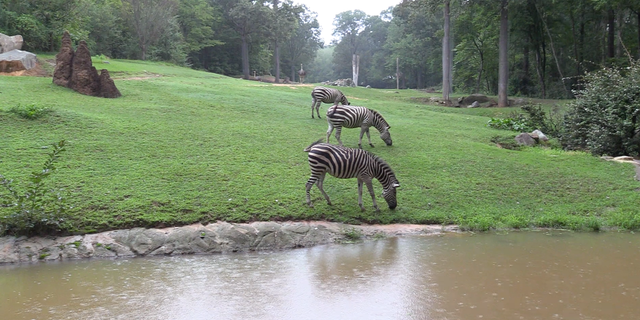 "The North Carolina Zoo's top priority is the safety and security of our people and the 1,600 animals under our care," Diane Villa, a zoo spokeswoman told Fox News.
Further south, the director of Animal Care and Welfare at Riverbanks Zoo in South Carolina said preparation for a hurricane of this magnitude can take several days, if not even months.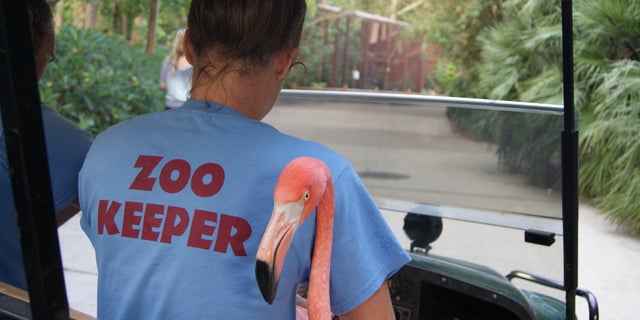 "It's not something we can just react to," John Davis said. "….one of the biggest plans that we want to make sure that we have are supplies to support the collection in the event of a power outage or if the roads were challenging to get in supplies and to have a well-rounded emergency response team."
Riverbanks Zoo is home to more than 2,000 members of the animal kingdom. Located in Columbia, S.C., the facility is surrounded by two major rivers, prompting concern among the staff of potential storm surges and flash floods.
"Flooding with the Saluda River is always an area of concern and we have had times when it did start to encroach our perimeter," Davis said.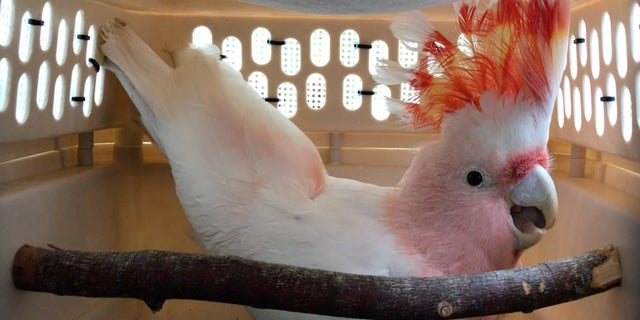 Riverbanks has about 300 bird species, 150 of which are housed in outdoor habitats. Davis said the birds are very resilient but with their habitats being outdoors, it is harder to protect the birds from high winds or flying debris. That's why they are being brought indoors.
"We want to be very cautious when we move some of these species, like bird species, catching them and moving them into stranger locations, that takes a lot of time and planning and we go easy with that," Davis said.
Zoo staff have also prepared multiple generators, a refrigerator truck and several days-worth of food for every species on site in case of a power outage.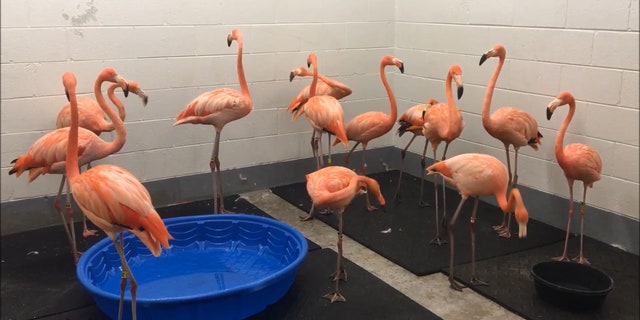 "It gives me peace of mind. It comforts me, makes me know that my animals are safe and that's all you can ask for," senior bird keeper Sarah Faugno said.
Other zoos in Virginia and the Carolinas will be closed as they finish securing all the animals and their habitats before the strong Category 2 hurricane makes landfall.