Archaeologists discover 3,500-year old Mycenaean warrior and his treasures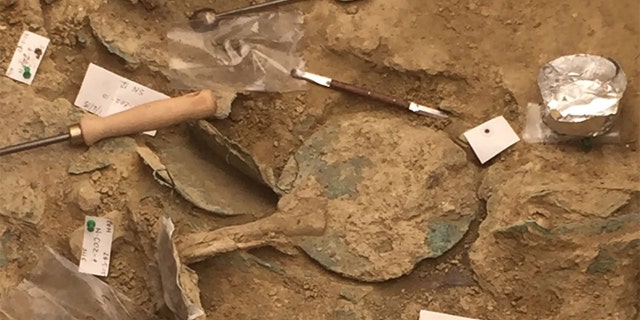 If striking gold is great, striking ancient gold must be better.
While digging for artifacts at the Palace of Nestor in southern Greece, an archaeological team headed up by researchers from the University of Cincinnati stumbled upon what they now believe is the grave of a wealthy Mycenaean warrior.
The Palace of Nestor features in Homeric legend, and the recent archaeological efforts seek to study and uncover the palace, which was destroyed by fire around 1200 B.C., but remains the best-preserved palace from the Bronze Age found on Greece's mainland.
Inside the grave, the team uncovered the remains of a male they estimate to be age 30-35 years of age lying on his back. Beside him, weapons lay to the left and treasures lay to the right.
Related: Hiker taking a rest finds a 1,200-year-old Viking sword in great condition
Highlights from the find include weapons gilded of precious metals, gold rings, gold and silver cups, carved ivory and over 1,000 beads made of precious stones. The team also noted that the lack of items made of pottery indicates the man's wealth and position in the community at the time he was alive.
UC Magazine writes on its website, "The tomb may have held a powerful warrior or king – or even a trader or a raider – who died at about 30 to 35 years of age but who helped to lay the foundations of the Mycenaean culture that later flourished in the region."
The warrior's grave shaft measured about 5 feet deep, 4 feet wide and 8 feet long and the team worked on clearing it for about two weeks before uncovering the warrior and his trove of treasures.
The project is headed up by UC's Sharon Stocker, senior research associate in the Department of Classics, McMicken College of Arts and Sciences and Jack Davis, Carl W. Blegen Chair in Greek Archaeology. Other UC team members making the discovery included UC faculty, staff specialists and students.
UC Magazine writes, "The excavation was organized through the Department of Classics, University of Cincinnati, with sponsorship from the American School of Classical Studies in Athens, and with permits from the Greek Ministry of Culture."
Related: Plague spread 3,000 years earlier than 1st thought: 2,800 BC
Stocker told UC magazine, "This previously unopened shaft grave of a wealthy Mycenaean warrior, dating back 3,500 years, is one of the most magnificent displays of prehistoric wealth discovered in mainland Greece in the past 65 years."
Stocker added that the warrior pre-dates the days of legendary King Nestor and his father Neleus by around 200-300 years. "That means he was likely an important figure at a time when this part of Greece was being indelibly shaped by close contact with Crete, Europe's first advanced civilization."