Ancient Tomb Halts Construction in Albania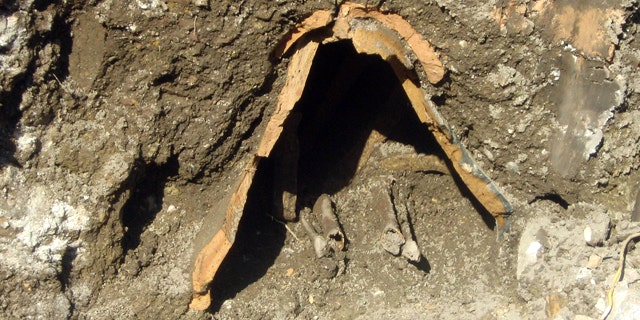 NEWYou can now listen to Fox News articles!
DURRES, Albania – A redevelopment project in this Albanian town has been halted after construction work discovered a 6th-century tomb.
Officials hailed the delay as a landmark decision in this impoverished Balkan country, where rampant construction often obliterates cultural heritage such as archaeological sites.
Vangjel Stamo of Albania's archaeological service said Tuesday that recent development in Durres has "damaged so much of the archaeology."
Two years ago, Albania created a state archaeological service, but laws meant to ensure that potential archaeological sites were excavated ahead of development were regularly ignored. Officials say they don't know how many sites may have been lost to construction.
Archaeologists now intend to build a shelter over the tomb discovered in Durres last weekend, which contained bones but no artifacts, and to dig around it in the hope of finding an entire cemetery.
Work will then proceed on the planned municipal shopping complex and coffee bar.
Durres, which was first inhabited some 3,000 years ago, is 20 miles (33 kilometers) from the capital, Tirana.
"Durres is flooded with such tombs," said Skender Bushi, an archaeologist monitoring work at the site in the city center. "They are typical of the Byzantine period when people began to abandon this area due to the attacks from Avars, Goths and later Slavs," referring to people that invaded the Balkans in successive waves.
But he added that the tomb discovery provides a good indication of archaeological remains that could lie beneath. The grave was uncovered less than four meters (yards) deep, near the retaining wall of a previously excavated second-century amphitheater.
Artan, a middle-aged passer-by who stopped to have a look at the excavation, said he was glad authorities were taking care of Albania's heritage.
"We have seen so many times that old tiles, stones and parts of ancient statues come out when excavators dig the foundations of new buildings," he said.
FoxNews.com's SciTech section is on Twitter! Follow us @fxnscitech.