Ancient Chinese teapot worth $600,000 discovered by British family goes up for auction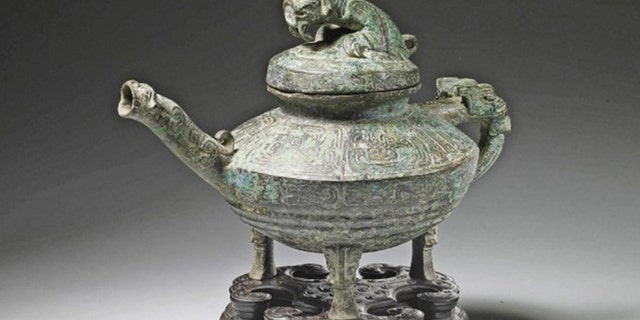 A 3,000-year old bronze vessel that was looted by a British soldier from an imperial palace in Beijing fetched $581,600 at auction this week despite objections from the Chinese government.
The vessel, referred to as Tiger Ying because of its tiger decorations, was auctioned at Canterbury Auction Galleries in England on Wednesday, reports the South China Morning Post.
The teapot, which reportedly dates to the Western Zhou dynasty, is believed to be one of only seven similar vessels to even exist. Five of them are housed in museums.
RARE TITANIC LOVE LETTER OFFERS INSIGHT INTO LIFE ON THE DOOMED OCEAN LINER
The buyer's identity is a mystery.
According to documents discovered by the auction house, the vessel was looted by Harry Lewis Evans, a Royal Marines captain who fought in the Second Opium War in the 1850s.
Chinese authorities are not happy about the auction.
China's State Administration of Cultural Heritage denounced the auction, saying it "strongly opposes and condemns Canterbury Auction Galleries' insistence on auctioning the suspected illegally discharged cultural artifact despite solemn protests from China."
The government agency also accused the house of "conducting commercial hype" around looted cultural relics, reports the South China Morning Post.
Dr Cheng Xiaohe, an associate professor of international relations at China's Renmin University, said the issue is important to the Chinese people because the "burning of Yuanmingyuan has been a symbol of shame for Chinese people for many years."
The destruction of the palace, which involved 3,000 British troops and a fire that raged for three days, also resulted over 300 deaths.
Xiaohe told the Straits Times: "The Tiger Ying was taken by the British soldier, who is a real historical figure. Therefore, this act of plunder is an eternal pain in the hearts of the Chinese people."