Alligator spotted in New Jersey township, police warn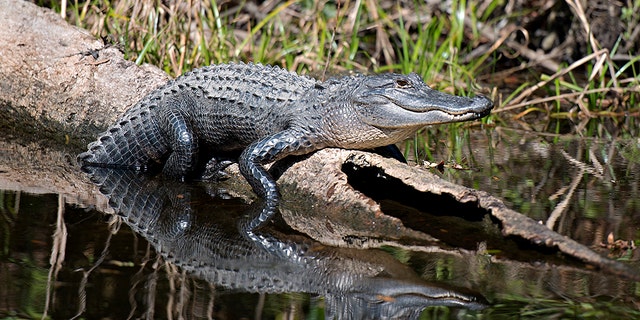 An alligator is reportedly on the loose in a New Jersey township, and authorities are warning residents to be cautious.
The Mullica Township Police Department said the gator was spotted on Hamburg Avenue Tuesday afternoon.
Capt. Brian Zeck said a woman was the first to report it after it walked across her property.
TEXAS GRANDMA SHOOTS, KILLS MASSIVE GATOR LINKED TO MISSING MINIATURE HORSE
"A homeowner saw it in her yard and videotaped it - it's a confirmed alligator and it's probably 3 and a half to 4 foot," he told Fox News.
Police offered advice for residents who own pets.
"We are working with our partners in the animal protection and care fields to locate the animal," the department said in a Facebook post. "Residents should be cautious letting small pets out in this area and to not approach the animal if it is located."
GIANT 'CONTRACTING' CREATURE SPOTTED ON BEACH STUNS FAMILY: 'IT'S ALIVE'
As of the Wednesday afternoon, Zeck says the creature was still roaming around, though wildlife officials are working on locating and trapping it.
"Be on the lookout, do not approach it, contact police," he stressed.