Alligator found in basement of Washington D.C. home, police say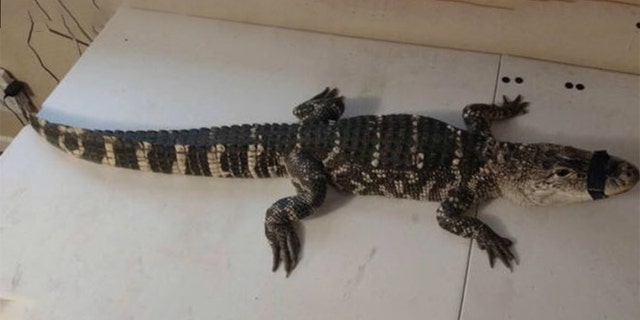 A 4-foot alligator was found in the basement of a Washington D.C. home on Wednesday, police said.
Metropolitan Police Department officers and the DC Humane Rescue Alliance were carrying out search warrant at the residence, where they eventually located a 4-to-5-year-old alligator, according to a police report.
RATTLESNAKE TERRIFIES NORTH CAROLINA BOATERS AS IT SWIMS ACROSS LAKE, ATTEMPTS TO SLITHER ABOARD
Police told Fox News that MPD was assisting on the search warrant after the organization received information about a reptile being housed at that location.
While cautioning the public against keeping alligators as pets, the department tweeted that animal control was trying to find the gator a safe place to live. Police also shared photos of the animal, including one of the gator hanging in a shallow bin of water.
PENNSYLVANIA WOMAN STUNNED TO FIND ALLIGATOR IN HER BACKYARD
"See you later, Alligator... after 'while Crocodile! 7D Officers came in contact with a 4-foot alligator while on patrol last night!" the tweet said. "DC Animal Control will be working to have him relocated to a safe habitat. Also, remember that alligators should not be considered house pets!"