7-year-old finds 3,400-year-old figurine in Israel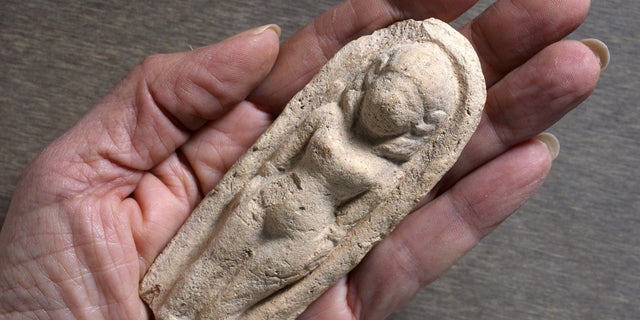 NEWYou can now listen to Fox News articles!
Seven-year-old Ori Greenhut was hiking up an archaeological mound in Israel when he came across a huge stone. On closer inspection, the youngster saw a face staring back at him.
What he found on the Tel Rehov mound completely stunned him and his friends. Just beneath the soil, they discovered a 3,400-year-old clay figurine with a portrait of a naked woman. It has since been compared by antiquity authorities to figurines from the Canaanite culture of the 15th to 13th centuries BCE.
Related: Textiles from the time of King David found in ancient Israeli mine
"Ori returned home with the impressive figurine and the excitement was great," Ori's mother, Moriya Greenhut, said in a statement. "We explained to him this is an ancient artifact and that archaeological finds belong to the State".
The Greenhut family turned palm-sized figurine over to the Israel Antiquities Authority. The clay figurine is believed to have been made by pressing soft clay into a mold.
"Some researchers think the figure depicted here is that of a real flesh and blood woman, and others view her as the fertility goddess Astarte, known from Canaanite sources and from the Bible," Amihai Mazar, professor emeritus at Hebrew University and expedition director of the archaeological excavations at Tel Rehov who examined the figurine, said in a statement.
Related: Ancient fortress discovery may solve one of Jerusalem's great archaeological mysteries
"It is highly likely that the term trafim mentioned in the Bible indeed refers to figurines of this kind". Mazar said. "Evidently the figurine belonged to one of the residents of the city of Rehov, which was then ruled by the central government of the Egyptian pharaohs".