7.0 Quake Shakes New Zealand Awake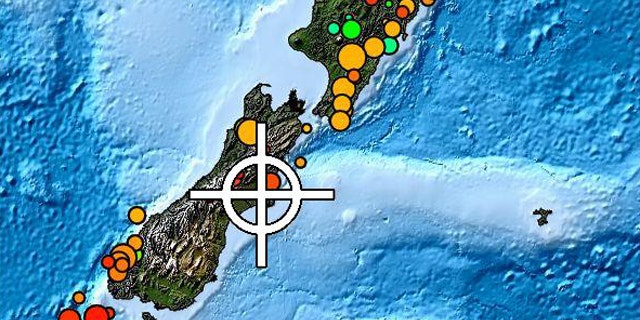 NEWYou can now listen to Fox News articles!
A strong magnitude 7.0 earthquake struck close to New Zealand's second-largest city of Christchurch early Saturday local time, wreaking havoc on older buildings and roads, damaging water pipes and power lines and leading to an airport shutdown.
There were just two reports of serious injuries, and authorities were responding to looting in the aftermath of the quake. The USGS did not warn of the threat of tsunamis, a common after-effect of an earthquake.
Christchurch Mayor Bob Parker declared a state of emergency four hours after the quake rocked the region, warning people that continuing aftershocks could cause masonry to fall from damaged buildings. The emergency meant parts of the city of 342,000 would be closed off and some buildings closed as unsafe, he said.
Minister of Civil Defense John Carter said a state of civil emergency also was declared as the quake was "a significant disaster," and army troops were on standby to assist.
The quake hit at 4.35am Saturday morning local time, just 35 miles northwest of Christchurch, on New Zealand's South Island, at a depth of seven miles. Initial reports placed it at 7.4 magnitude, though the USGS revised it down to 7.0. And a smaller, magnitude 5.7 aftershock struck 5 miles from the initial quake, the USGS reported.
Parker said the "sharp, vicious earthquake has caused significant damage in parts of the city ... with walls collapsed that have fallen into the streets."
Christchurch police reported road damage and power outages in parts of the city, with a series of sharp aftershocks rocking the area, the according to the Associated Press. In response, police officers cordoned off some streets where rubble was strewn about from the quake.
"There is considerable damage in the central city and we've also had reports of looting, just shop windows broken and easy picking of displays," Police Inspector Mike Coleman told New Zealand's National Radio.
Police Inspector Alf Stewart told the radio that some people had been arrested for looting.
Christchurch Hospital said it had treated two men with serious injuries and a number of people with minor injuries.
One man was hit by a falling chimney and was in serious condition in intensive care, while a second was badly cut by glass, hospital spokeswoman Michele Hider said.
Christchurch International Airport was closed after the quake as a precaution, as experts prepared to check the runways and airport terminals for debris and damage, a spokesman said.
Christchurch resident Colleen Simpson said panicked residents ran into the street in their pajamas. Some buildings had collapsed, there was no power, and the mobile telephone network had failed.
"Oh my God. There is a row of shops completely demolished right in front of me," Simpson told the news website stuff.co.nz.
Shaken residents told how they cowered under doorways as the earth moved violently for what seemed as long as a minute. Kevin O'Hanlon described the jolt as extremely powerful.
"I was awake to go to work and then just heard this massive noise and 'boom,' it was like the house got hit. It just started shaking. I've never felt anything like it," he told Stuff.
The damage extended to suburbs and communities across South Island, shutting down the entire railway system while officials inspected it for damage. Grant Shimmin, a resident of Temuka, 90 miles (145 km) south of Christchurch, said the quake seemed to go on for as long as a a minute.
"It sounded like some objects were falling around the house, although we've not found anything broken," he said.
"My daughters ... were both woken quickly and called out, obviously feeling pretty scared, and we huddled under doorways."
A resident of Otago, a region in the island's south, added: "Our house was moving from side to side and the movements were pretty big."
New Zealand sits above an area of the Earth's crust where two tectonic plates collide. The country records more than 14,000 earthquakes a year -- but only about 150 are felt by residents. Fewer than 10 a year do any damage.
Although the nearby population tends to live in quake-susceptible structures, the last two major earthquakes did not result in any casualties, the USGS said. A magnitude 6.1 earthquake struck Cape Campbell, New Zealand, on January 18, 1977, and a magnitude 6.1 temblor hit Cass, New Zealand, on November 24, 1995.
"No destructive widespread tsunami threat exists based on historical earthquake and tsunami data," the Pacific Tsunami Warning Center said.
The Associated Press contributed to this report.