6 squirrels stuck in a jam after getting their tails tangled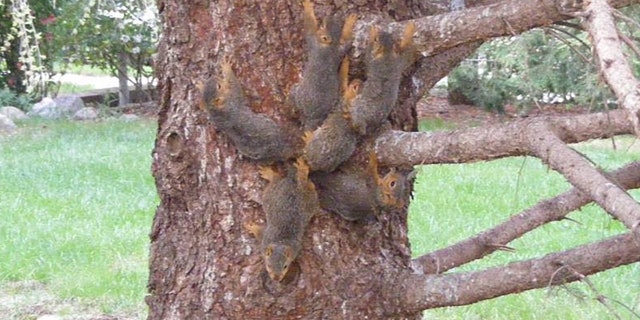 NEWYou can now listen to Fox News articles!
Nebraska wildlife officials on Monday untangled six squirrels that somehow got their tails in a knot in what is being described as a "crazy phenomenon."
Craig Luttman called the Nebraska Humane Society after he spotted the 8-week-old squirrels on a tree outside of his Elkhorn home, the Omaha World-Herald reported.
"It was like a tug of war," Luttman told the paper. "All were going in different directions."
The Nebraska Humane Society turned the squirrels over to Nebraska Wildlife Rehab.
The distressed squirrels were administered an anesthetic. Veterinarians covered them with a towel to keep them calm and untangled the tails like a knotted ball of twine. The process took about an hour.
The squirrels became tangled from sticky tree sap and could have starved or been eaten by predators if not separated, the paper reported. Though not common the group apparently has to respond to a similar call about once every two years.
Although the six babies were doing fine, some parts of their tails were damaged while stuck together and will require surgery, the paper reported.
The baby squirrels were expected to be released in a few weeks.