3,200-year-old mummy discovered in Egyptian tomb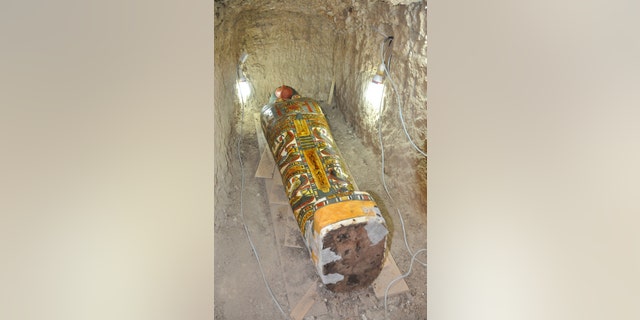 Archaeologists have found the well-preserved body of a 3,200-year-old nobleman inside this brightly painted sarcophagus, according to officials announcing the artifact's discovery on Sunday.
The wooden sarcophagus — carved into a distinctive Egyptian figure with black hair and heavy eye-liner — was found buried near a temple from the era of fourth-millennium warrior king Thutmose III, near the town of Luxor, on the Nile River's west bank.
RUSSIAN SCIENTISTS UNEARTH REMAINS OF SECRET NAZI ARCTIC BASE
The ancient mummy — believed to be the body of a man named Amenrenef, "a servant of a royal household," according to Egypt's Ministry of State of Antiquities — was preserved with linen and plaster and adorned with colorful decorations and religious symbols.
Archaeologists discovered the remains a few years earlier in a tomb dating from between 1075 BC and 664 BC, but scientists wanted to evaluate the find before making a public announcement.
Read the full story at the New York Post.