$20B Treasure Hunt at 16th-Century Hindu Temple Nears End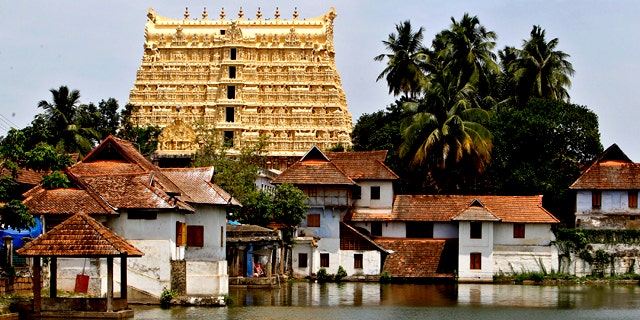 In a hidden vault within an ancient Indian temple lies an unprecedented trove of actual treasure -- sacks of diamonds, sparkling jewels, gold coins and more.
And this is no adventure film or pirate story -- it's entirely real.
Investigators on Monday opened the final vault in Sree Padmanabhaswamy temple in Kerala, India, and are finishing the count of the staggering hoard of gold coins, statues of gods and goddesses studded with diamonds, and precious stones uncovered within.
It's thought that the haul may amount to over $20 billion worth of treasure.
So far, five vaults have been opened and their inventory has been catalogued. The recently opened sixth and most secure vault had remained closed while authorities ascertained the best method for dealing with the contents.
"We have decided to conduct a thorough valuation of the articles," Ananda Bose who heads the inspection panel, told the BBC.
The valuables were donated to the temple by devotees over hundreds of years, people hoping to curry favor with the gods and ruling class, and India's erstwhile royal family has been the custodians of the treasure.
The unforeseen riches uncovered in early July instantly turned the temple into one of India's wealthiest religious institutions -- and sparked a debate on what to do with the 16th century temple's treasure. While they debate, security has been stepped up at the temple.
Metal detectors were hurriedly installed at temple entrances after six days of searches revealed the treasure trove of artifacts, statues and temple ornaments made of gold.
Politicians, religious leaders and historians have made a host of suggestions.
Kerala's top elected leader, Chief Minister Oommen Chandy, said the wealth would remain with the temple and the state government would assure its safety. "The treasures are the property of the temple. We will ensure the utmost security for the temple and its wealth," Chandy told reporters in July.
Many others in the state feel the enormous stash should be used to pay for poverty alleviation.
"The wealth should be used in public interest," said V.R. Krishna Iyer, a retired Supreme Court judge. "The treasure should be handed over to a national trust and spent for the welfare of the poor."
The Associated Press contributed to this report.