2018 Atlantic hurricane season now to be 'less active' approaching peak months, NOAA says
The Atlantic hurricane season is now expected to be "less active" as it enters its peak months due a combination of conditions in the ocean and atmosphere helping to limit storm development, government forecasters announced Thursday.
The National Oceanic and Atmospheric Administration said in its updated forecast that El Niño is "much more" likely to develop with enough strength to suppress storm development during the latter part of the season.
A combination of cooler sea surface temperatures across the tropical Atlantic Ocean and Caribbean Sea, as well as stronger wind shear with drier air have helped to suppress storm development so far this summer.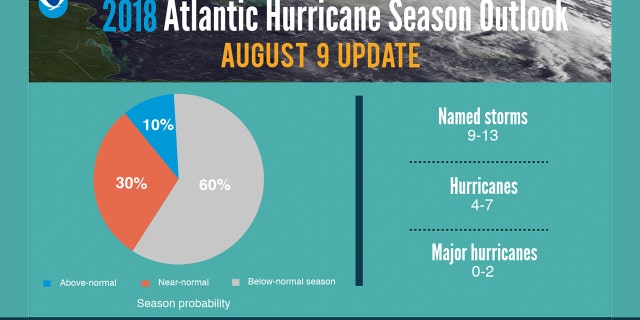 WHAT IS THE SAFFIR-SIMPSON HURRICANE WIND SCALE?
NOAA forecasters are now calling for 9 to 13 named storms with winds of 39 mph or higher, of which 4 to 7 will strengthen into hurricanes. Of those storms, there may be up to 2 major hurricanes, which are classified as Category 3, 4 and 5 with winds of 111 mph or higher.
"There are still more storms to come – the hurricane season is far from being over. We urge continued preparedness and vigilance," said Gerry Bell, Ph.D., lead seasonal hurricane forecaster at NOAA's Climate Prediction Center.
If an El Niño does indeed develop, that could suppress storm development during the season's peak months from August through October. El Niño is the natural warming of parts of the Pacific Ocean that changes weather worldwide and tends to reduce hurricane activity in the Atlantic.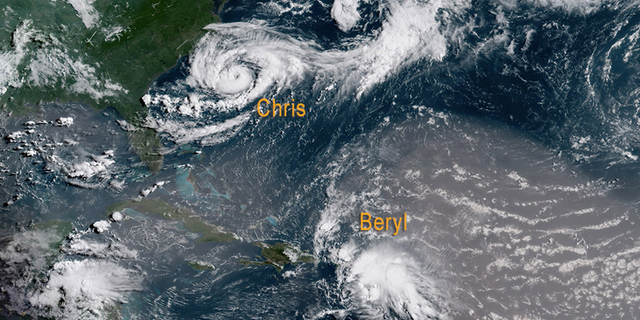 Warm waters feed a hurricane's strength, while strong wind shear can pull it apart. If El Niño does not develop and water temperatures in the Atlantic Ocean and the Caribbean Sea warm up, that could fuel more storm development, according to Bell.
In May, forecasters believed there would be 10 to 16 named storms, with 5 to 9 strengthening into hurricanes. So far this year, there have been four named storms, including two hurricanes. The NOAA says that an average hurricane season contains 12 named storms, including six hurricanes and three major hurricanes.
AS ATLANTIC PREPARES FOR 'NEAR NORMAL' HURRICANE SEASON, REGION STILL REELING FROM LAST YEAR'S DEVASTATION
This year the hurricane season includes the names: Alberto, Beryl, Chris, Debby, Ernesto, Florence, Gordon, Helene, Isaac, Joyce, Kirk, Leslie, Michael, Nadine, Oscar, Patty, Rafael, Sara, Tony, Valerie and William.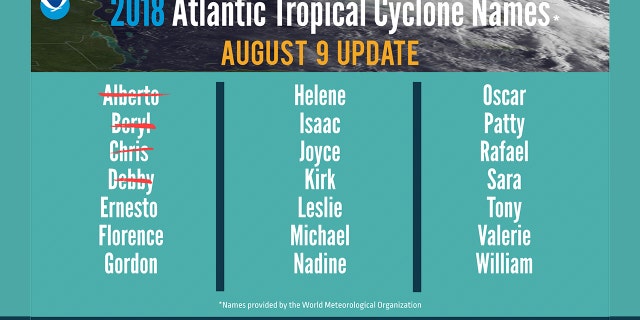 Forecasters stress that the updated outlook is for overall season activity, and does not predict where storms reach land. With the busy part of the season now here, officials stress that residents in coastal areas should be prepared for any storm.
"Today's updated outlook is a reminder that we are entering the height of hurricane season and everyone needs to know their true vulnerabilities to storms and storm surge," FEMA Administrator Brock Long said in a statement. "Now is the time to know who issues evacuation orders in their community, heed the warnings, update your insurance and have a preparedness plan. Don't let down your guard, late season storms are always a possibility, always keep your plans updated."