2011: The Year of the Urban Tornado, Meteorologist Says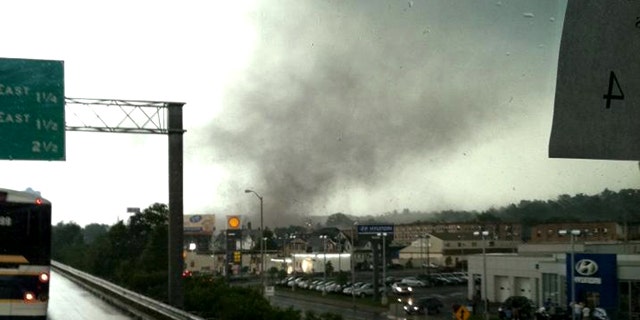 NEWYou can now listen to Fox News articles!
An astonishing number of tornadoes have ripped through highly populated towns and cities all over the country this year -- and more might be on the way, one meteorologist says.
The average number of tornadoes over a 3-year span in the US is 1,376. So far this year there have 1,425 reports of tornadoes, with an unusually high number striking towns and major cities so far this year -- and the year is far from over.
"Perhaps many towns and cities have simply been a little lucky up until this year," Alex Sosnowski, senior meteorologist for Accuweather.com, told FoxNews.com. "This is a sign of what we may see on a more frequent, periodic basis as the weather pattern cycles through, as it has over years."
Some of the towns and cities that have been hit this year include Philadelphia; Minneapolis; Dallas; Oklahoma City, Okl.; Little Rock, Ark.; Tuscaloosa, Ala.; Raleigh/Sanford, N.C.; St. Louis, Mo.; Bristol, Va.; and Reading, Kan..
Most recently, an exceptionally unusual tornado struck Springfield, Mass., killing at least three people.
The increase in deadly tornadoes is due to a number of factors.
First of all, as the population grows and expands into more rural and suburban area, tornadoes cause more destruction in areas that once would have seen far less damage.
The La Nina weather phenomenon has also been said to contribute to the recent rise in tornadoes in the U.S. La Nina, an ocean-atmospheric event that can cause anomalies in weather patterns, can contribute to stronger jet streams over Northern America.
The strength of the jet stream is a key factor in severe thunderstorms and tornado formation.
"The stronger the jet stream, the more air is pulled up from the surface," Accuweather.com severe weather expert Henry Margusity said. "The jet stream acts as a vacuum cleaner by pulling air up from the surface."
Another factor is the movement of these jet streams. This year, jet streams have moved farther east than where they are typically located. This causes severe thunderstorms and tornadoes in these densely populated areas.
There seems to be little people can do to stop these deadly tornadoes, Sosnowki said.
We're all "at the mercy of the weather," he noted.