2 men accused of stealing artifacts from sunken Royal Navy warship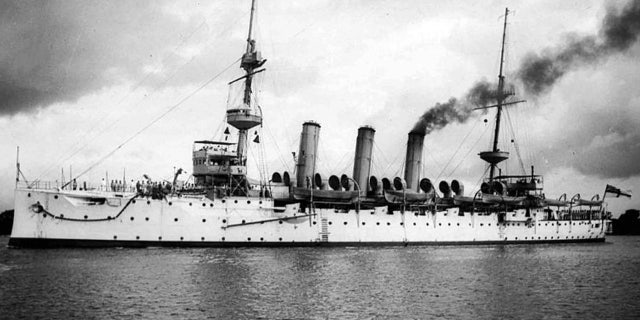 NEWYou can now listen to Fox News articles!
Two men are accused of swiping historical artifacts from a Royal Navy warship that sank in the Dover Strait at the beginning of WWI, the BBC reported Monday.
The HMS Hermes was sunk by a German submarine in the English Channel at the start of the war. UPI reported that the warship was designed to carry sea planes and was Britain's first prototype aircraft carrier.
Authorities told the Canterbury Crown Court that the men used winching equipment to haul "huge" pieces of wrecks from the seabed.
John Blight and Nigel Ingram deny the fraud charges that stemmed from the alleged "commercial exploitation of shipwrecks." The report said prosecutors said a torpedo hatch, launch panel and chinaware were found at Ingram's home.
The items were not declared, the report said. Similar items were reportedly found at Blight's home.
Kent Police officers launched an investigation in August 2015 after being informed that a number of historical artifacts "had been reported missing from the wreck."
Ingram, 57, of Kent, reportedly told authorities that he took a condenser from the vicinity of the wreck, but did not believe it was from the actual ship. Blight, 58, from East Sussex, allegedly said he dove at the site but did not take anything.
Sky News reported that the wreck is considered a protected site because 44 souls died there.