2 activists free penguin, but may have doomed him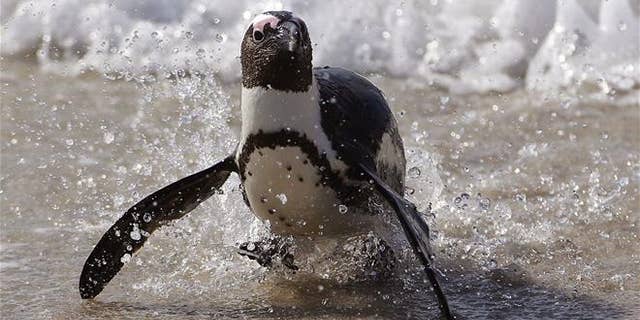 NEWYou can now listen to Fox News articles!
Two South African students may have gotten in over their heads when they "liberated" a penguin from a South African marine park, the BBC reports. Surveillance video showed two still-unidentified students breaking into the enclosure at Bayworld marine park, grabbing the penguin, and driving it to the nearby shoreline, where they released it.
The problem is that Buddy the penguin was raised in captivity and is "completely ill-equipped to survive in the wild," says the park manager. Staffers are searching up and down the South African coast, hoping Buddy will come back to land before he runs out of fat reserves in two or three weeks.
"The individuals stated that they did not agree with the penguins being kept in captivity and that their intention was to capture and then release a penguin back into the wild," says a Bayworld statement, per news24.com. The park has reported the theft to police and says the men's lawyer has been in contact. The African penguin is an endangered species, with less than 20,000 breeding pairs in the wild. The loss of Buddy is especially bad for the park, as he was successfully paired with a mate. Penguins mate for life, and park officials worry Buddy's mate, Francis, may not accept a new partner if Buddy does not return. What's more, one of their two recently hatched chicks has died since his disappearance. (There may be good news about these 150,000 missing penguins.)
This article originally appeared on Newser: 2 Activists Free Penguin, May Have Doomed Him
More From Newser