183-year-old giant tortoise gets new lease on life thanks to healthier diet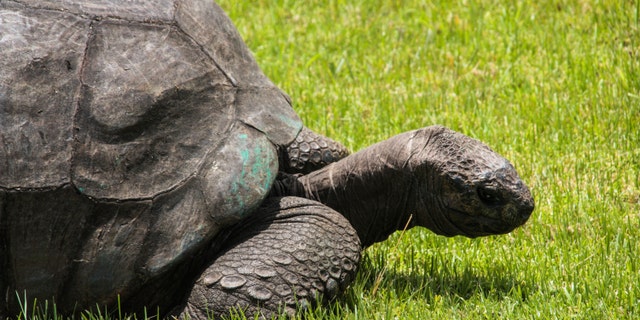 NEWYou can now listen to Fox News articles!
Jonathan the 183-year-old giant tortoise has been given a new lease of life thanks to a healthy diet.
The famous tortoise, who lives on the remote Atlantic Ocean island of St. Helena, had suffered declining health, according to The Express, losing his eyesight and sense of smell.
The Seychelles giant tortoise was brought to the British overseas territory of St. Helena in 1882, when he was around 50 years old. He lives in the grounds of Plantation House, the official residence of the island's governor.
Vet Joe Hollins put Jonathan, the world's oldest living land animal, on a high-calorie, healthy diet, with impressive results.
Related: New species of tortoise found on Galapagos Island
Hollins is the first permanent vet for St. Helena and cares for a number of giant tortoises on the island, including Jonathan. "By observing Jonathan and his behaviour, it was clear that he was struggling to satisfy his appetite," he told FoxNews.com, via email. "His beak, made of keratin, the same as hoof or horn, was blunt and quite crumbly, and because he is blinded by bilateral cataracts, he was mouthing and grabbing at inappropriate foods, often being rewarded with mouthfuls of leaf mould or a few straggled bits of coarse grass."
The fact that Jonathan lost his sense of smell made his life even more difficult, although he still has a strong sense of taste and excellent hearing, according to Hollins, who consulted experts in the Seychelles and the U.K.'s Bristol Zoo before implementing the healthier diet.
"For four years now I have been feeding him once a week on a Sunday, usually a mixture of carrots for fibre, cucumber for moisture, bananas for calories, and a mixture of other items such as guava, lettuce, cabbage, and local fruits loquat and Brazilian guava," he told FoxNews.com, adding that the results have surpassed his expectations.
Jonathan's beak has developed a sharp edge, he has put on weight, and has become more active. "Too good to be true in an ancient gentleman of that age!" said Hollins. "I now wear welding gloves as his beak has become lethal, and on one occasion he seized one of my fingers and I lost a nail."
"Logically what has really happened is I have supplemented him not just with calories, but with vitamins, minerals and trace elements, those unquantifiable items that we all need for healthy tissues," Hollins added. "It's a delight to see."
This is not the first time that an aging tortoise has hit the headlines. Famed Galapagos tortoise Lonesome George, whose failed efforts to produce offspring made him a symbol of disappearing species, died in 2012.
Last year a new species of tortoise was found on Galapagos.
The Associated Press contributed to this report.