10,000-year-old crayon discovery points to 'colorful' Mesolithic life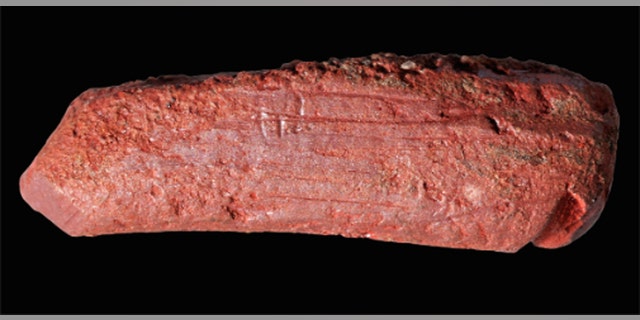 It looks just like a worn-out crayon you'd find at the bottom of a kid's art box, but this one has an important difference: it's 10,000 years old.
Archaeologists unearthed the ancient ochre crayon, used to draw on animal skins or for artwork, near an ancient lake that is now part of Scarborough, North Yorkshire in the U.K. The crayon, along with an ochre pebble that was found at another site, gives historians further insight into Mesolithic life.
DEAD SEA SCROLLS DISCOVERY: OBSCURE FRAGMENTS DECIPHERED
"Color was a very significant part of hunter-gatherer life and ochre gives you a very vibrant red color," University of York Department of Archaeology's Dr. Andy Needham said in a press release. "It is very important in the Mesolithic period and seems to be used in a number of ways."
The Mesolithic Period (otherwise known as the Middle Stone Age) is a time period ranging from approximately 20,000 BCE to 5,000 BCE. It existed between the Paleolithic Period (or Old Stone Age), known for its chipped stone tools and the Neolithic Period (New Stone Age), which had polished stone tools.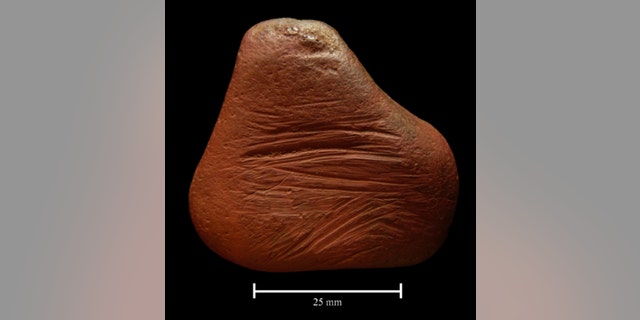 Dr. Needham, the study's lead author, noted the similarities between the object found and modern-day crayons. "One of the latest objects we have found looks exactly like a crayon; the tip is faceted and has gone from a rounded end to a really sharpened end, suggesting it has been used," he continued. "For me it is a very significant object and helps us build a bigger picture of what life was like in the area; it suggests it would have been a very colorful place."
The crayon is just 22 millimeters (0.86 inches) long and just 7 millimeters (0.27 inches) wide. It was found at Seamer Carr and Flixton School House, which is near one of the most renowned places in Mesolithic history. in Europe, Star Carr.
Made of ochre, a pigment made from clay and sand to produce a red pigment, the crayon and pebble were found in an area "already rich in art," Dr. Needham noted. In 2015, a pendant was found at Star Carr and more than 30 red deer antler headdresses were also found. It's likely the headdresses were used for disguise while hunting or ritualistic performances by shamans.
The study has been published in the Journal of Archaeological Science: Reports.
Follow Chris Ciaccia on Twitter @Chris_Ciaccia